Download TinyUmbrella 5.00.06 For Mac OS X And Windows: iPad 2 CDMA/GSM iOS 4.3.x
A new version of TinyUmbrella, the tool that helps save iPhone, iPod Touch, iPad and Apple TV SHSH blobs regardless of whether your iDevice is jailbroken, is now available to download for Mac OS X and Windows. TinyUmbrella 5.00.06 allows iPad 2 CDMA/GSM users to restore iOS 4.3.x without the fear of the recovery loop. Assuming you have your iOS 4.3, 4.3.1, 4.3.2, or 4.3.3 SHSHs and restore to one of those versions, TinyUmbrella will now allow the restore to complete successfully.
Note: this functionality will only remain for so long as Apple signs the current firmware – iOS 4.3.4.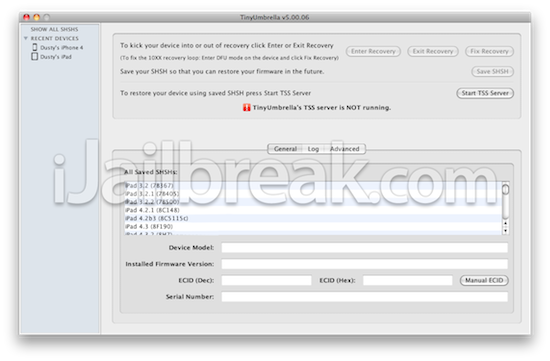 Follow our step-by-step guides below to save your iPhone, iPod Touch, iPad and Apple TV SHSH blobs using TinyUmbrella, and to downgrade using TinyUmbrella:
Download v5.00.06:
Make sure you stay subscribed through our social media feeds, so that you never miss a beat, by liking us on Facebook, following us on Twitter and joining our circle on Google+.
Hey, you! Join the iJailbreak Insider for weekly newsletters, Jailbreak alerts, contests and more. (No spam, we promise)