A couple of days ago we told you about a new tool called StifleStand released by Filippo Bigarella, that would allow you to put the Newsstand app in a folder. Although this has already been possible with various Cydia tweaks, it has not been possible without a Jailbroken iOS device. The great aspect to StifleStand is that it does not require your iPhone, iPod Touch or iPad to be Jailbroken to work.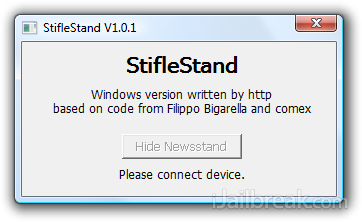 The only true downside to StifleStand when it was launched was really its lack of support for the Windows operating system. You will be glad to know however, the Bigarella tweeted last night that StifleStand has been ported to Windows and is now fully functional.
You can download StifleStand for Windows from the iJailbreak Downloads Section or from the direct link below.
Download StifleStand (Windows)
Once you have StifleStand for Windows downloaded you can follow our official tutorial on using StifleStand to put the Newsstand app in a folder on a non-Jailbroken iOS device by clicking here.