Apple just released the iOS 5 beta 7 firmware (build 9a5313e) to developers and it is now available to download for iPhone, iPod Touch and iPad. At this time not much is known about the iOS 5 beta 7 firmware update besides the obvious bug fixes and stability improvements. As we are in the 7th phase of beta testing for the iOS 5 firmware one can assume that we are nearing a GM release for iOS 5.
Note: Just like the iOS 5 beta 6 firmware update you can update to iOS 5 beta 7 Over-The-Air. Meaning if you go into the new Software Update tab in the Settings.app you will be able to update over-the-air.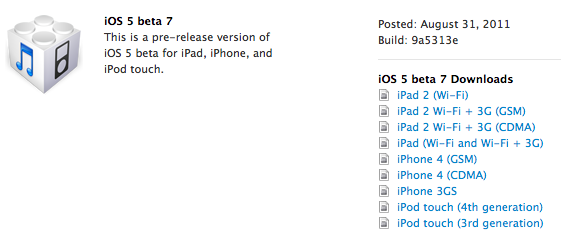 We will keep you updated if anything new and noteworthy surfaces in the iOS 5 beta 7 firmware. Until that time please stay tuned…
Update #1: iOS 5 Beta 7 Changelog, What's New?
Update #2: Jailbreak iOS 5 Beta 7 With RedSn0w 0.9.8b7 [MuscleNerd Confirms]
Update #3: iOS 5 Beta 7 Firmware Expires October 20th, 2011!