Apple has just pushed out iOS 4.3.5/4.2.10 (CDMA Verizon iPhone 4), only 10 days after patching "Comex"s JailbreakMe 3.0 vulnerability with iOS 4.3.4. The update is to apparently address a security issue with certificate validation, and no other information seems to be presently available.
iOS 4.3.5 Software Update

Fixes a security vulnerability with certificate validation.
Note to jailbreakers: Do not update until the Dev-Teams have figured out a jailbreaking solution, as once you upgrade you will lose your jailbreak and unlock. Also, don't forget to back up your SHSH blobs! [TinyUmbrella]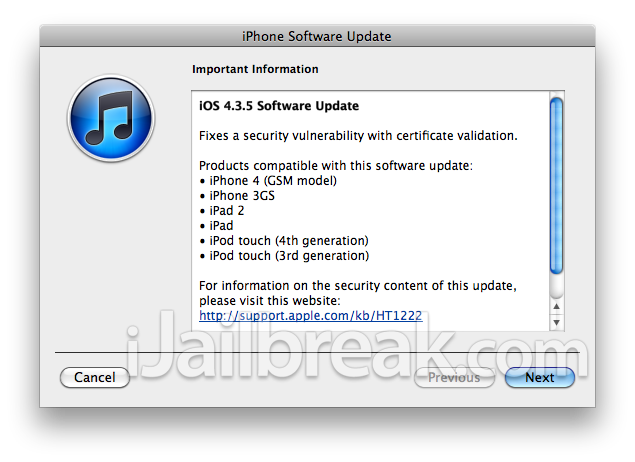 Direct download links for iOS 4.3.5/4.2.10:
iPhone 3GS
iPhone 4 (GSM)
iPad
iPad 2 (iPad 2,2 / iPad 2,3)
iPod Touch 3G
iPod Touch 4G
Verizon iPhone 4 CDMA (4.2.9)
Update #1:
Update #2:
Apple has released a support document detailing the issue that has been patched in iOS 4.3.5/4.2.10.
Impact: An attacker with a privileged network position may capture or modify data in sessions protected by SSL/TLS
Update #3:
Update #4: