Update #1: iFaith version 1.2.1 has been released.
iFaith v1.2.1. (Who knew one last second mod could screw the whole build.) — pastie.org/2282544
You can download iFaith 1.2.1 from the iJailbreak Downloads Section. Additionally you can use one of the download mirrors below:
Download iFaith v1.2.1 (Windows)
iH8Sn0w has released an update for iFaith, bringing iFaith to version 1.2.
What is new in iFaith V1.2?
Support and bug fixes while saving/creating an ipsw for the iPod Touch 2G (MC and Non-MC)
General bug and compatibility fixes
iH8Sn0w also mentioned in the iFaith v1.2 changelog that the source code to iFaith will be released through Github very soon. Which is sure to make all of you developers excited.
In case you are not yet familiar with iH8Sn0w's SHSH blob saving tool iFaith here is a quick run-down:
iFaith allows you to dump SHSH blobs directly on to your physical iDevice. Now the difference between other SHSH saving programs like TinyUmbrella is that iFaith allows you to save SHSH blobs for a specific firmware you are running even if Apple is not currently signing that firmware. In most cases, using iFaith is also a more reliable way to downgrade your iDevice.
As you can see iFaith is very useful if you want to save your SHSH blobs on a firmware that Apple is not currently signing.
For example: If you wanted to save your iOS 4.3.3 SHSH blobs right now using a tool like TinyUmbrella you would not be able to. Using a tool like iFaith, however, you could save your SHSH blobs on the iOS 4.3.3 firmware.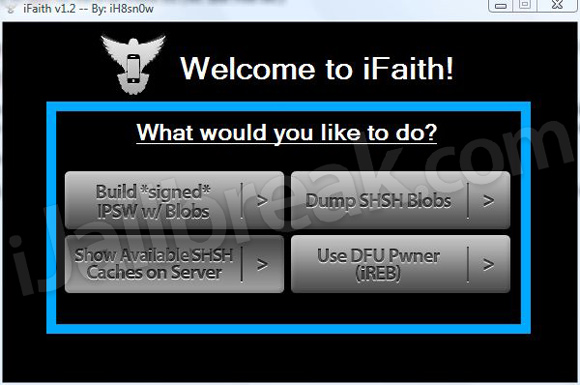 If you would like to download iFaith V1.2 you can go to the iJailbreak Downloads Section. Additionally you can use one of the download mirrors below
Download iFaith v1.2 (Windows)
Let us know if you have used iFaith to save your iDevice's SHSH blobs in the comments section below…