Microsoft is continuing to go after the iPad in its aggressive marketing campaign where it compares the iPad to its Surface tablet. The last commercial we shared with you related to how the iPad sucked at multitasking compared to the Surface.
Today Microsoft has released a new commercial that mocks the iPad for its absence of Surface features like including a real keyboard, featuring a kickstand and having a USB port. Of course the new $349 price of the Surface is also promoted in the commercial… mind you the fact that the touchcover costs $119 extra is only included in the fine print.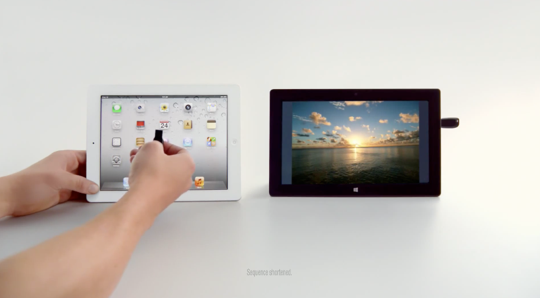 This doesn't come as a surprise that Microsoft is trying to increase Surface sales because the Redmond company has announced that it has seen $900 million in losses due to "inventory adjustments." This is of course a fancy word that essentially means the tablets have been collecting dust in a warehouse, with only 1.8 million Surface RT tablets sold in the past two quarters.
Has Microsoft finally admitted defeat in the tablet front with this massive loss? Let us know in the comments section.