On October 7, 2010, the Chronic Dev Team (CDT) announced that their jailbreak tool, Greenpois0n, would be released on 10/12/2010. This was after GeoHot went into retirement from the iDevice jailbreak scene due to the pressure from ungrateful jailbreakers in the community rudely demanding a new jailbreak. As the release date for Greenpois0n neared, GeoHot suddenly came out of retirement and released his jailbreak tool, Limera1n, that he had announced back in April of 2010 which utilizes an entirely different hardware hole than Greenpois0n.
Subsequently, CDT delayed their release to save the exploit found by pod2g in iOS 4.0.1's bootrom which Greenpois0n was utilizing to implement the sepearate exploit used by Limera1n. This was great news as now iDevice owners could still jailbreak their devices, plus we had one up on Apple with pod2g's exploit: SHAtter. We now had 'insurance' so to say that once GeoHot's exploit was patched, we would still have a way to perma-jailbreak our iDevices via the SHAtter exploit…or so we did…or still do.
New tweets surfaced yesterday from MuscleNerd and P0sixNinja firing back and forth, accusing each other of leaking the prized SHAtter exploit.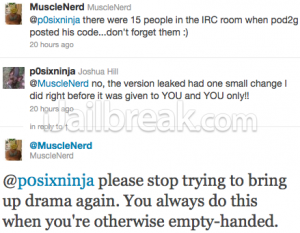 It seemed that just like that, we lost our secret weapon. Then next thing you know, 'Spirit' jailbreak and JailBreakMe.com a.k.a. 'star"s creator comex chimed in with the following tweet:

So as of right now, no one knows whether or not the real SHAtter was leaked, or if this is just scene drama between devs.
We'll keep you updated as this story develops.