The Apple iPad is a magnificent gadget and can do many things that your laptop or desktop can. People use it with portable Bluetooth keyboards for taking down notes, writing etc. When used with a Bluetooth keyboard, writing on an iPad becomes a pleasure. It's easy to carry and can be used almost anywhere. For those who regularly use their iPad to write articles and reviews, a few extra shortcut keys to switch between and open apps would be very helpful.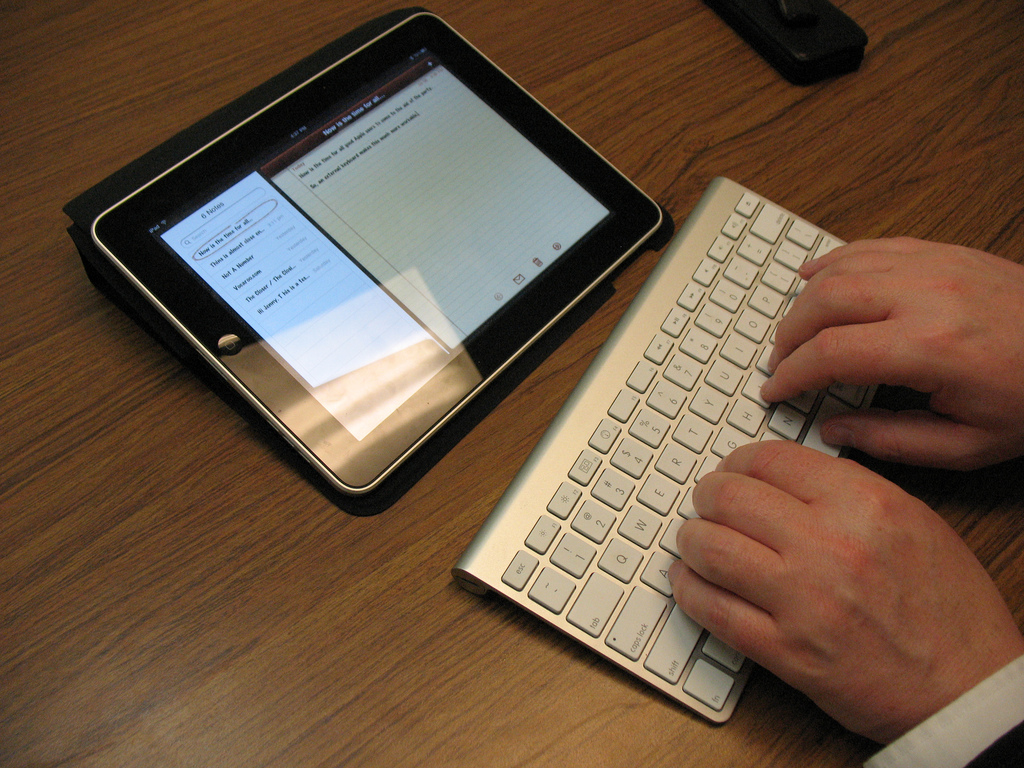 Being able to switch between apps, select apps from the keyboard without having to touch the screen on the iPad, can be useful. Imagine using your iPad with a full QWERTY keyboard, having access to plenty of shortcuts and accessibility options that you're used to on the desktop/laptop. Thanks to the guys from TaoOfMac, here's a list of iPad Bluetooth keyboard shortcuts that even Apple hasn't mentioned in the iPad manual:
Ctrl+Alt+S – silences VoiceOver
Ctrl+Alt+H – equates to a Home button press (do it twice to show the task bar, add a little pause to go to Spotlight)
Ctrl+Alt+I – pops up the Item Chooser, which allows you to pick just about any accessible element on the screen and jump to it – try it on your home screen to get a nice list of folders and apps
Left+Right – to go into quick navigation mode and go over all the accessible UI elements
Up+Down – to "press" a UI element
Alt+Arrow - Keys to scroll a screenful at a time (in an app, sideways on the home screen, etc.)
Cmd+Shift+Tab – switches "right" to the previous app, just like a four-finger swipe (think of it as a way to move back through the task switcher)
Cmd+Tab – switches back "left" to the app you were originally in (the screen will bounce a little when you're already on the "latest" app)
Left+Right – followed by Option-Left/Right to page through your dock (if you go all the way left, you'll get to the volume, playback and brightness controls)
If you've got a Bluetooth keyboard with you right now, you should definitely give these a try. Meanwhile, you can learn more by going here. Let us know, if you know any other shortcuts!