We previously covered the initial iPad Air reviews that started appearing on mainstream media outlets and now we are talking benchmarks.
iPad Air Benchmarks have just appeared on Geekbench and the new tablet from Apple has achieved a single-core Geekbench score of 1,465, while the fourth-generation iPad achieved only 771. When multi-core tests were run, the iPad Air achieved 2,643 points, while the previous model achieved 1,408 as you can see in the image below: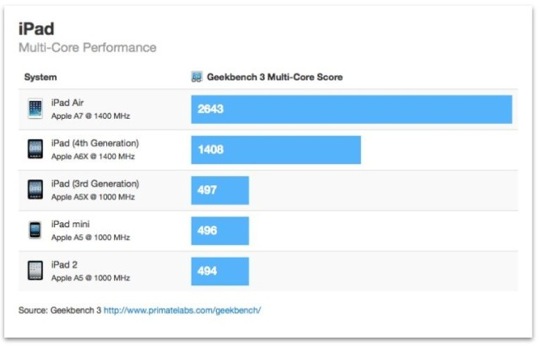 his chart isn't meant to show that the 4th generation iPad is slow, because it's not, but as you can see from the chart above, the 64-bit A7 chip really does make the difference Apple promised.
The Geekbench results also show that the iPad Air's processor clocks at 1.4GHz, which is actually 100MHz faster than the iPhone 5′s identical A7 processor. The reason for the slight increase in performance may be because of its longer battery life and/or cooling system.
When you look at how poorly the iPad 2 stacks up to the iPad Air you almost wonder why Apple kept it around considering it is only $100 more. Most people agree, however, people are still buying it and as such it wouldn't make sense for the Fruit Company to drop it off the market just yet.
Update #1: AnandTech also found that the graphics of the iPad Air are up to 70% faster than the iPad 4. Take a look at the results of this 3DMark Unlimited test.