A research firm called Gartner released a new report today which ranks many of the leading electronics manufactures based upon the amount of total silicon content in all products designed by the company. With all the TVs, phones, displays, players, and computers that are on the market by many large companies such as Samsung, HP, Dell, and Apple you may be a little surprised by the results.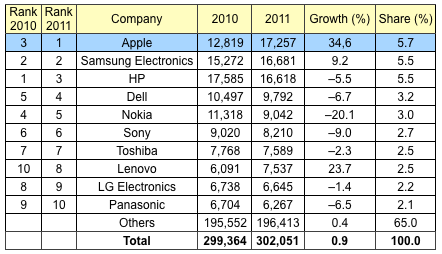 Overall Apple jumped from third place back in 2010 to being ranked number 1 in 2011, growing nearly 35%! Other noticeable changes was the drastic decline in HP's, Dell's and Nokia's ranking. All of these three slipped by more then 5% in total silicon in their designed products.
The major chunk of silicon is found in Apple's mobile devices, and solid-state drives used in computers.
"The major growth drivers in 2011 were smartphones, media tablets and solid-state drives (SSDs)," said Masatsune Yamaji, principal research analyst at Gartner. "Those companies that gained share in the smartphone market, such as Apple, Samsung Electronics and HTC, increased their semiconductor demand, while those who lost market share in this segment, such as Nokia and LG Electronics, decreased their semiconductor demand.
While this isn't a huge shock to see Apple expanding and growing while other companies such as Nokia and HP experiencing shrinkage, the amount of Apple's growth over one year is quite impressive.
Do you have one of Apple's mobile devices? Tell us your experience with it in the comment section below.