Apple's iPad focussed event is scheduled for October 22nd and while we anticipate iPads and Mac to be the forefront of the keynote, the Apple TV has said to possibly make an appearance. Especially now that Amazon's French and German sites are currently showing the Apple TV is out of stock and will not be available again until October 23rd. Which is of course 1 day after the iPad keynote.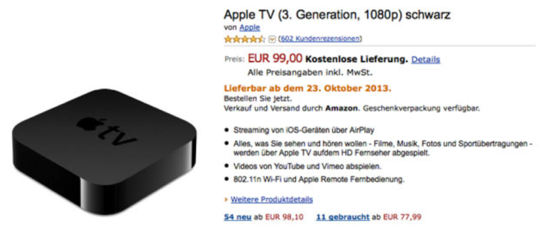 Ben Lovejoy from 9To5Mac wrote " [this lends to] a small amount of weight to [suggesting] that a new Apple TV will be one of the announcements at Apple's launch event the day before."
Engadget on the other hand took the mature role of warning that Amazon listings are not the most reliable indicators and even noticed that Amazon France is offering the Apple TV again, "but with orders fulfilled by a third-party retailer rather than from its own, presumably empty, stocks."
There hasn't been much chatter about what the refreshed Apple TV would bring about in terms of new features or even if it would be present at the keynote. All reputable media outlets have been able to confirm is the iPad 5, iPad Mini 2 and refreshed Macs.
Considering the Apple TV hasn't been updated for nearly two years when it received 1080p video support, it would definitely make sense for Apple to update the device. The only thing it has done is give the Apple TV an A5 chip in March 2013, but there wasn't even an official announcement about it, because the change was so small.
What do you think? Will the Apple TV share the throne with the iPads on the 22nd?