In a survey conducted by Nielsen looking what kids between the ages of 6 and 12 are most interested in buying in the coming six months, Apple dominates the list having three of the top five positions. The iPad surges in the lead with 44% of US kids between the ages of 6-12 wanting an iPad this holiday season. This same survey last year showed that only 31% of 6-12 year olds wanted an iPad. You can check out the entire list of items their examined in the picture below. Note how low video game related hardware is on the list. I know when I was a kid all I wanted was a Nintendo 64, and when I found that under the tree I was the happiest little kid ever. It seems like the days of video game consoles being the most desired gift are gone. However, it seems our previous topic about the shift of mobile gaming from the Nintendo DS and Sony PSP to the iOS platform is definitely shown in this survey.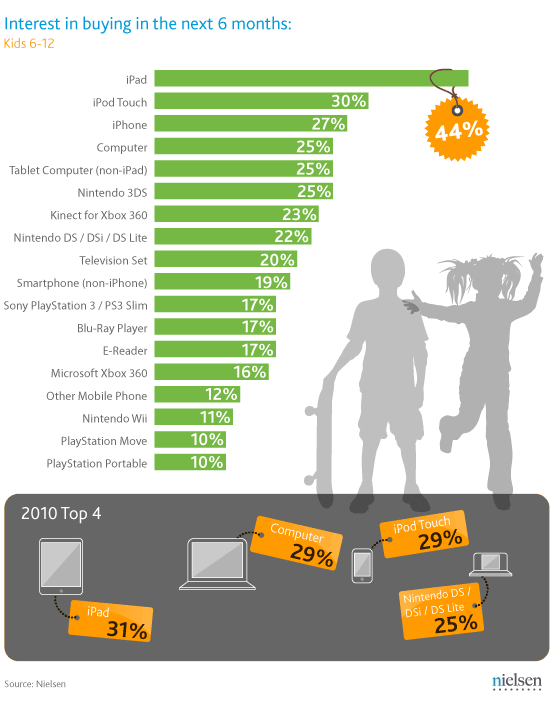 I am surprised how many small children want an iPad, but even more surprised by the other products. Over a quarter of 6-12 year olds want an iPhone! Really? Maybe I was just a loner growing up, but I did not have that many people to call when I was 6 or 8.
The same survey was also conducted on consumers 13 and older with a little more distributed result. Apple still takes number one spot this holiday season, once again with their iPad line. The iPhone and iPod touch drop considerably in the list but are still present. I find the most shocking result is the position of the computer. In both age groups the percent of consumers wanting a computer dropped. The computer is just as desired as an E-book reader…wow. I need to step away from this after that statistic.
With a sample size of 3000 individual in the US, this by no means shows everything, just a quick look at what most people are interested in this holiday season. What are you most looking forward to this holiday season? What tops your list this year? Let us know in the comments section.