Yesterday we reported that DisplaySearch had tapped its sources in the display supply chain to see what panel sizes and resolutions were currently under development in order to speculate upcoming Apple products. One panel size that came up was 12.9-inches with a resolution of 2732 x 2048 and 265 ppi, which was suggested could be Apple's rumored iPad Pro.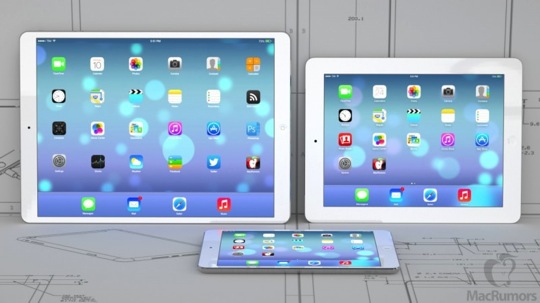 Now today the Taiwanese publication DigiTimes claims that according to "market sources," Apple will release the bigger iPad by the end of the third quarter at the earliest.
Samsung's recent launch of its 12.2-inch model is expected to propel Apple to accelerate development of large-size iPads. Market sources indicated that Apple is likely to release a 12.9-inch model by the end of the third quarter at the earliest.
DigiTimes also claimed that Apple is working with production partners and component suppliers to develop the next generation iPad Air and Retina iPad mini that would be released in October or November of 2014.

In regards to the iPad Pro supply chain sources expect Apple to ship 80-90 million. Do you think it makes sense for Apple to release a larger iPad? Drop us a line in the comments section below.