We saw the announcement of the new iPad, of the many new features, an improved 5-megapixel rear facing camera called the "iSight Camera" was mentioned yesterday during Apple's keynote presentation. The iSight name has only been used exclusively to label the webcams built in the Mac, but the new iPad is the first time it has been used for an iOS camera.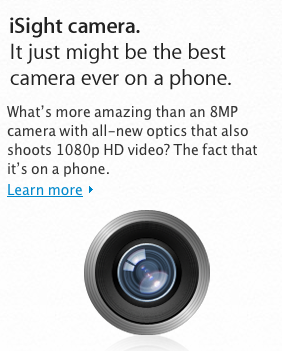 With this new description, Apple has updated that name for their iPhone 4 and iPhone 4S, updating its website to advertise built in iSight cameras for both. While the name iSight was seemingly leaving their vocabulary with the use of FaceTime instead, but it appears someone decided to keep it, and I approve!
Do you have a preference to what it is called? Tell us what one you prefer out of iSight, or FaceTime in the comments below.