Ming-chi Kuo of KGI Securities has had a long track record of providing accurate information when it comes to predicting Apple's plans for next-generation products, and as such when he speaks it is worth listening to what he has to say. Today Kuo has spoken to AppleInsider and has suggested that the bulk of Apple's 2013 product pipeline will likely launch later than many people have expected due to complex development challenges for this year's anticipated iPhones and new iPad Mini.
According to Kuo the iPhone 5S is having issues because the fruit company is trying to implement a fingerprint sensor. This makes a lot of sense considering Apple acquired a biometric company by the name of AuthenTec last year. The issue reportedly stems from preventing interference from the  black and white coating material under the cover glass.
If the iPhone indeed received a form of biometric security then it would allow users to bypass the password entry and would also allow Apple to integrate e-wallet functionality. Additionally, this would give Apple an edge over its competitors because for other manufactures to copy this functionality it would require radically altering their handsets (as explained in the diagram below).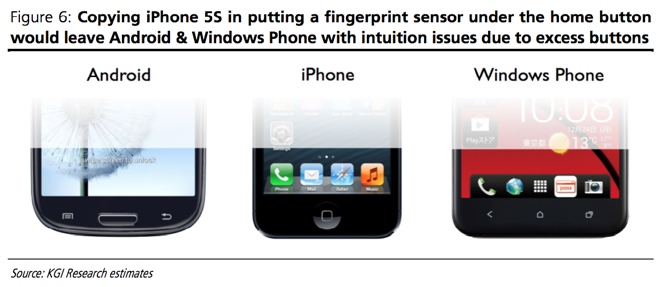 Yet another holdup on the iPhone 5S and also the entry-level iPhone, that we will get to in a minute, is iOS 7. The iOS 7 firmware is expected to be a radical revision for iOS and as such, as we have heard from previous reports, Apple is having to actually pull out all stops to get it complete in time for the WWDC 2013.
As for the entry-level iPhone specifically, apparently Apple is having issues with the device's casing. As the entry-level iPhone is believed to have a plastic casing that will be slimmer than such casings regularly are, it has been difficult to ramp up production yields.
Finally, the last developmental issue Apple is having with next-generation devices lies with the next-generation iPad Mini. As it is expected the iPad Mini 2 will have a Retina display, it is going to make it more difficult to manufacture and could delay shipments. With all this in mind, this is how Kuo predicts 2013 will play out…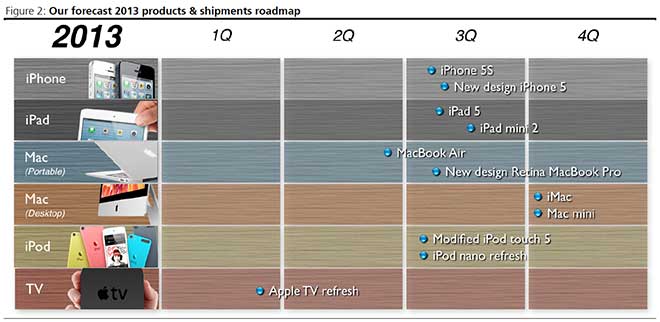 It is a very believable report and probably holds a lot of truth. Apple really needs to step up its game this year with the likes of Samsung quickly catching up in terms of innovation. A fingerprint sensor on the iPhone 5S, an entry-level iPhone and a Retina Display iPad Mini would really do the trick.