Some interesting tweets were sent out this morning by MuscleNerd and CMW (developer of the original WinPwn jailbreaking tool) about an iPhone/iPad emulator that is being currently developed called iEMU. This emulator, however, is not like Apple's SDK emulator where it only emulates at an API level. This emulator is a true iPhone/iPad emulator that will be like running an actual iPhone/iPad within your Windows or Mac OS X computer. As this is a true iPhone/iPad emulator it will make finding exploits and developing jailbreaks a much easier process for the Dev-Team (according to CMW).
You can take a look at the series of tweets below…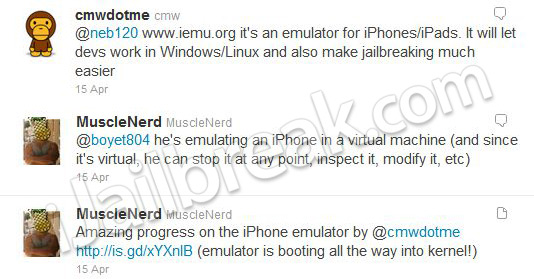 Though this emulator is still a work in progress, you can keep track of its development by clicking here. We will keep you updated on the progress of this emulator, but until that time please stay tuned!