Apple is set to reveal the next generation iPad, most likely going to be called the iPad 3, a refresh for the Apple TV and the iOS 5.1 firmware at their iPad 3 event taking place at San Francisco's own Yerba Buena Center for the Arts. The event will be taking place at 10am PST, which means that in only about half hour we will get to see what Apple has been working hard on for the past year or so. There are a ton of rumors that have circulated up to this point about what the iPad 3 will feature and what else Apple is actually going to unveil today, but we will spare you nitty-gritty details and jump right into what you are looking for.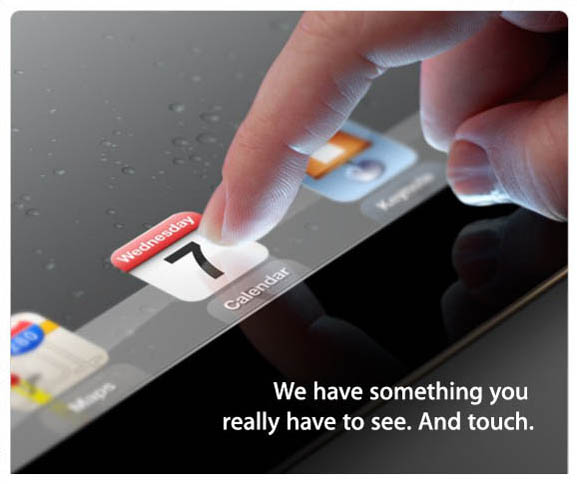 How To Watch Apple's iPad 3 Event
Unfortunately it looks like Apple will not be providing a live stream of the iPad 3 event. This means for all of those hoping you would be able to watch the iPad 3 event live online you are out of luck. This does not mean however, that you will not be able to follow the event. There are several large Internet blogs that have been invited to the event to provide live coverage of the event in the form of a live blog. These websites range from Engadget to Ars Technica and by visiting these site's you will be able to stay up-to-date on exactly what is happening at Apple's iPad 3 event.
Apple iPad 3 Event Live Blog Sites:
Ars Technica
The Verge
iJailbreak
For those who are wondering when the Apple iPad event is taking place in your specific timezone you can look at the iPad 3 event timezone list below.
Apple iPad 3 Event Starting Times: 
Central (US) 12:00 PM
Mountain (US) 11:00 AM
Pacific (US) 10:00 AM
Eastern (US) 01:00 PM
Hawaii (US) 07:00 AM
Paris (Europe) 07:00 PM
London (Europe) 06:00 PM
Moscow 09:00 PM
Tokyo 02:00 AM
iJailbreak.com will of course be providing information on what is happening at the iPad 3 event as well. Thus, please stay tuned to iJailbreak.com if you wish to know exactly what is revealed at Apple's iPad 3 event taking place very soon.