UPDATE: Modmyi is reporting that GoJohnnyBoi is not the creator of this, as it says in the description. Although, this still works, (worked for me anyway), it is not officially from the developer it claims to be, so use at your own risk. So far, I have not experienced any issues, myself.
UPDATE 2: We have gotten reports that this patch is distributing Apple software, which is illegal. Although this worked for me, we suggest that you do not use this and do not support this developer.
Do you have an iPhone 3GS with the old bootrom, and used Spirit to jailbreak it? Now you want to upgrade to iOS4, but you think your stuck, because the current jailbreak doesn't work with Spirited devices, right? You could try to re-jailbreak, with redsn0w, pwnage tool, or blackra1n, depending on what firmware you're on, but now there's an easier way.
A new patch has been released, called "Spirit2Pwn", which allows you to use the current Pwnage Tool with a Spirited device.
You need to add a new repository to your device, to find the patch. Open Cydia, tap the Manage tab, tap Edit in the top right, then tap Add in the top left. Add this source: http://repo.woowiz.net.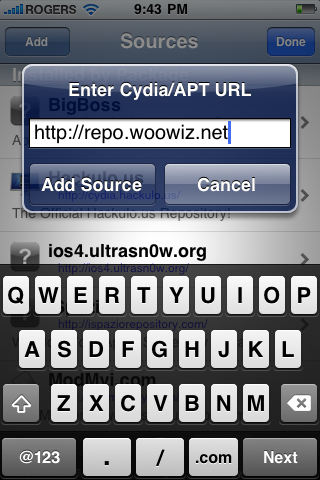 Then, just search for "Spirit2Pwn", and install. It will open up your device, to allow the current Pwnage Tool to work. Take a look at the last few lines of the verbose screenshot.
Now you can use Pwnage Tool 4.0 to build a custom iOS4 firmware, and restore with iTunes. This will not work with newer bootrom models. Spirit2Pwn is only for older bootrom iPhone 3GS, that was jailbroken with Spirit. If you're jailbreaking your iPhone 3G, you can just use the most recent version of Redsn0w.
I have confirmed this to work on an iPhone 3GS, with older bootrom, that was jailbroken with Spirit. If you follow me on Twitter, you might remember a few months back, I bought an iPhone 3GS, to replace my wife's busted iPhone 3G. I found one second hand, that was still on iPhone OS 3.1, and had old bootrom. I ended up doing an official update in iTunes, to 3.1.3, then using Spirit to jailbreak. I thought I would have to re-jailbreak, before I could update her to a jailbroken iOS 4, but I just installed this patch and my custom iOS 4 firmware worked perfectly.