The new iMacs are starting to arrive, and the smaller, 21.5-inch model is already in the hands of consumers. Much to some purchasers' dismay, the more modestly-sized iMac is nearly impossible to upgrade without some serious disassembly. As noted in the iFixit teardown report of the 21.5-inch model, the only way to swap out your RAM or hard drive for something better is to unglue the display assembly from the main chassis. Nothing quite says "voided warranty" like dismantling the whole front of your brand new iMac.
Fortunately, things aren't so bad for those planning on buying the larger version of the new desktop Mac. The 27-inch variant has a handy port on the back that will allow you to swap out your RAM quite easily, without any need for tools at all. You simply remove the power cord, press the button that's located above the plug, and a little hatch pops open. Inside the hatch is the RAM slots, and you're clear to swap memory sticks around to your heart's content.
A member of Apple's support forums has posted the following photo, showing the handy port on the iMac's rear panel: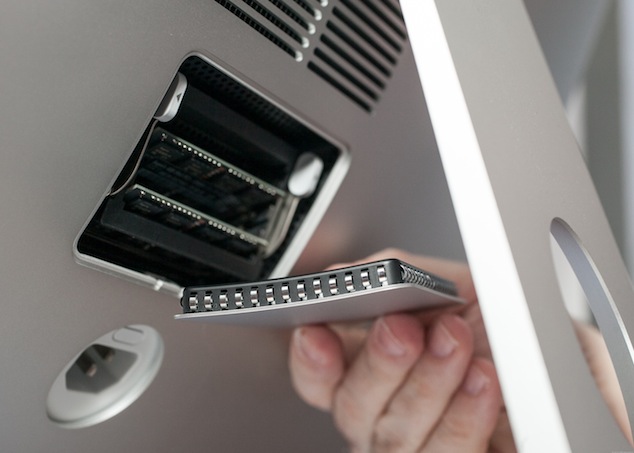 It's a bit of a mixed bag for iMac buyers then; Apple is up to their usual tricks when it comes to the smaller model, but they've made some concessions to user serviceability on the larger one. It's further incentive to hold out for the 27-inch version (which won't be available for another 3-4 weeks, and costs $500 more that its smaller sibling), or further incentive to buy a computer from a company that offers user serviceability across all their desktops (see: virtually every computer manufacturer in the world), depending on how you look at it. Your call, really.