If you are the proud owner of a Galaxy Note 2, and are interested in making a backups of your data secure, trying out different ROMs, digging into your phone's file system, gaining superuser controls, or if you really want to mod your phone but are worried about the warranty, we have good news for you. There is now an automated application that can automatically install drivers, perform backups and restores, save a rip of the stock disk image for warranty returns, and flash popular homebrew prerequisites to your phone such as an insecure bootloader, ClockworkMod Recovery, and BusyBox. Mskip's Samsung Galaxy Note 2 Toolkit is a PC application which will cover almost all of your bases for your Galaxy Note 2 (with the exception of Odin, which you will likely also need), and it's free.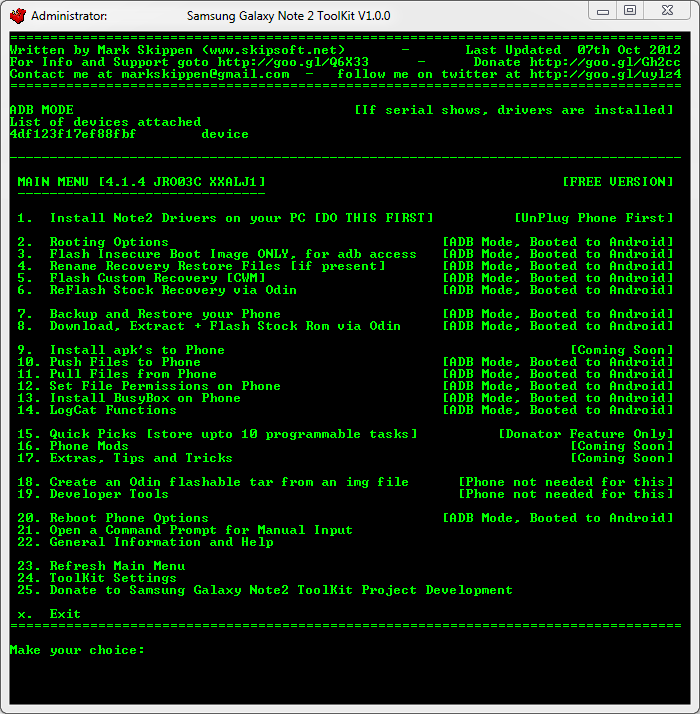 In order to make Mskip's Samsung Galaxy Note 2 Toolkit work with your phone, you're going to have to make sure your computer is ready for the Galaxy Note 2's drivers. Here's the rundown:
You can download the Samsung Galaxy Note 2 Toolkit [here].
Make sure KIES is uninstalled (the drivers will conflict) and your phone is NOT plugged into your PC.
Run the toolkit in administrator mode and select Option 1 to install the driver pack. Enable USB debugging on your phone through settings.
Connect your phone to your PC through USB, your computer should recognize your phone and install the correct drivers. You can verify that you installed the drivers correctly if your phone's serial number shows up on the toolkit's main menu.
From there you can find directions to perform backups, flash recoveries, and so on. As I've said, there are dozens of reasons why you would want to have a copy of this utility on your computer. The Samsung Galaxy Note 2 toolkit is free software, but you can also donate to its developer, Mark Skippen, if you find his utility useful.
Share your thoughts in the comments section below.