Well, Spirit is finally released! We can jailbreak all devices on OS 3.1.3 and 3.2, untethered! Folks with the newer bootrom having been waiting a while for this. We should stress that Spirit is not an unlock. If you rely on your iPhone being unlock to use an unofficial carrier, DO NOT USE SPIRIT. Spirit requires your device to be on OS 3.1.3, and already activated.
Note: How To Grab Your SHSH Blobs With AutoSHSH
In this tutorial, we'll be jailbreaking a WiFi iPad, on OS 3.2, but the process is the same for all devices. Go here, and download Spirit for your operating system. Unzip the file to your desktop. Open it up, and you should see this:

Next, do like it says, and connect your device. Spirit should recognize what device you have connected, and the jailbreak button will not be greyed out anymore.

Go ahead and click jailbreak. If you blink, you'll miss the process. Your device screen will flash, and all of a sudden it's done! On your device, you will then see the Spirit graphic, with a progress bar. The whole process is very quick, on the iPad, anyway. I have not tried on iPhone or iPod Touch yet.

You should now have Cydia on your homescreen! Open it up, and take a look at the new iPad layout for Cydia. Not everything works on the iPad, yet, but now that the jailbreak developers can get in there, we should get more and more working, over the next few weeks. Cydia itself, is much, much faster, and re-springing takes about 3 seconds. We'll keep you updated, as we try out more and more.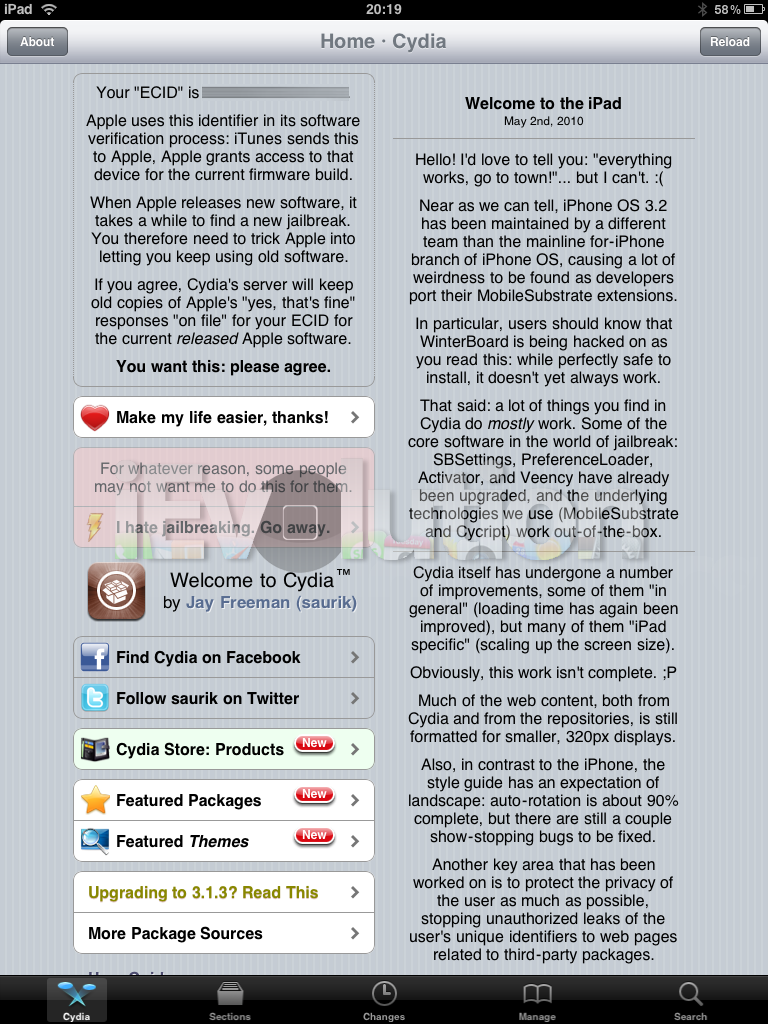 Here's our video of the jailbreak process. It's goes by pretty quick, so don't blink or you'll miss it!
If you are having any trouble with your jailbreak, please visit the Spirit website, and scroll to the bottom. The comments section will likely have some answers for you. Download Spirit from iJailbreak's Downloads Section.