BlackBerry, formally known as Research In Motion, has definitely managed to make a dent in the smartphone market with its new BlackBerry 10 handsets. The new BB10 operating system has a lot of unique features and stands out from the crowd. In fact, in case you didn't catch the great news, BlackBerry actually posted its first positive quarter in a long time and shipped 1 million BB10 handsets.
In order to further create buzz around the new BlackBerry 10 operating system the company decided to make an interactive demo that is accessible online. Simply point your device's mobile browser to BlackBerry.com/glimpse and follow the on-screen instructions. Although this isn't an emulator for BB10 as such, it is more like an interactive tour, it gives you a good feel of what using a BlackBerry 10 device would be like.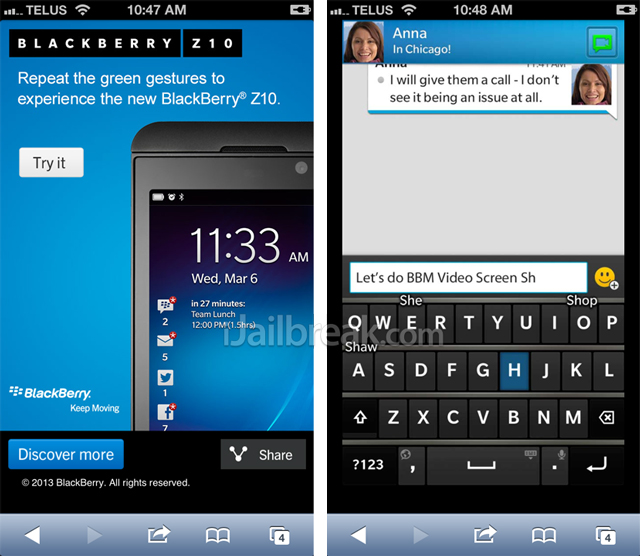 Once the page loads you will be walked through some of the most basic gestures for navigating the OS. This includes how to use the Hub, the predictive keyboard, BBM Video, Screen Share, and the camera's Time Shift feature. You can't actually navigate the OS on your own, but it is still neat to try out nonetheless.
We urge you to try it out for yourself, and then share your thoughts about BB10 in the comments section below. Can you think of any cool Cydia tweaks that could come out of some of BB10's OS features?