The developer of TinyUmbrella released a new tool to downgrade your iPad 2 or iPhone 4 from the iOS 5 firmware to the iOS 4.3.3 firmware for an Untethered Jailbreak. This tool is called TinyCFW and it is an experimental tool released only because of user demand. If you have been thinking about wanting to have an Untethered Jailbreak, and are not bothered about losing iOS 5 functionality, then TinyCFW is your only hope of downgrading.
Before using TinyCFW ensure you meet the following requirements:
TinyCFW Supports: iPhone 4 or iPad 2 with saved SHSH blobs for the iOS 4.3.3 firmware (no exceptions).
TinyCFW Requires: At least 2.5GB of RAM and the latest version of Java to be installed.
Note: For a Mac OS X version of this guide please click here.
In this how to guide from iJailbreak.com you will learn how to downgrade your iPhone 4 or iPad 2 from the iOS 5.0/iOS 5.0.1 firmware to the iOS 4.3.3 firmware for an Untethered Jailbreak. This how to guide covers how to use TinyCFW properly on the Windows operating system, which avoids errors with TinyCFW.
How To Use TinyCFW Windows
Step 1) - The first thing you need to do is download TinyCFW to your computer from one of the download mirrors below:
Download TinyCFW (Windows)
Additionally you will need to download the iPad 2 or iPhone 4 iOS 4.3.3 firmware file. Go to the iJailbreak Downloads Section to download this now.
Step 2) - After you have downloaded TinyCFW you will need to do some prep work to get it to actually work.
Step 3) – Right click on the My Computer shortcut on your desktop (if you do not have one then create one) and go into Properties.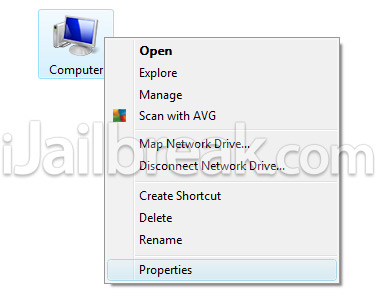 Step 4) - Then go into Advanced System Settings by clicking the text link in the sidebar and a new window will popup.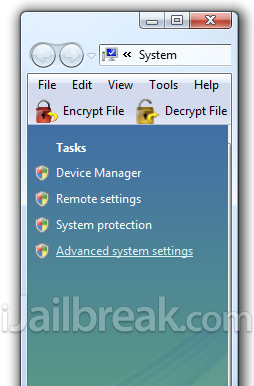 Step 5) – Go into the Advanced tab and click the Environment Variables button.
Step 6) – Yet another popup window will appear.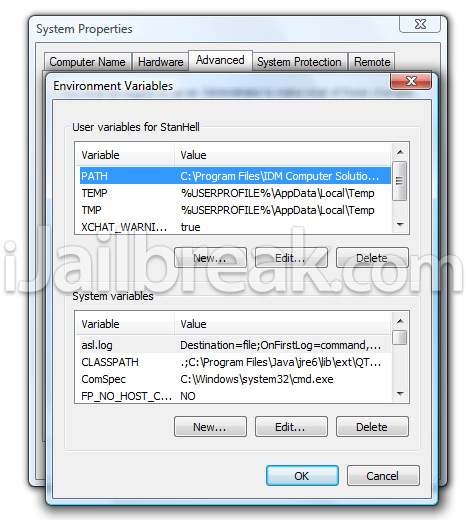 Click the New button under System Variables (not user variables) and enter the following:
Variable Name: _JAVA_OPTIONS

Variable Value: -Xmx1g
Once you have entered the information above click the OK button in all the open windows.
Step 7) – We are finally ready to actually begin using TinyCFW. Find the tinycfw-o.1-exe file you downloaded earlier and launch TinyCFW.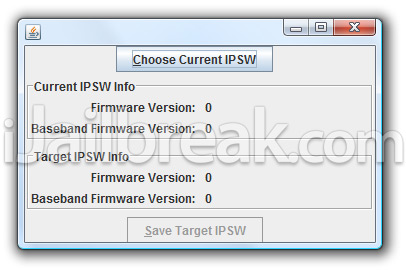 Step 8 ) – With TinyCFW up and running you will need to click the Choose Current IPSW button and select the iOS 4.3.3 firmware file for the iPad 2 or iPhone 4.
Step 9) – TinyCFW will now tell you information specific to that firmware version. Click the Save Target IPSW button to continue.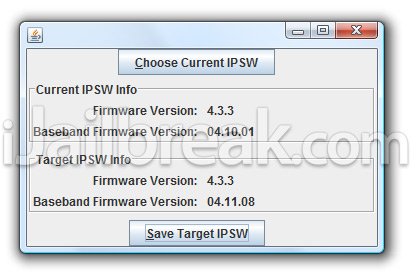 Step 10) – Within the next two minutes you will get a new firmware file that will appear in the directory where TinyCFW was launched from with the extension .bbupdate.ipsw.
Step 11) – Download the latest version of TinyUmbrella to your computer from the iJailbreak Downloads Section.
Step 12) – Launch TinyUmbrella and click the Start TSS Server button.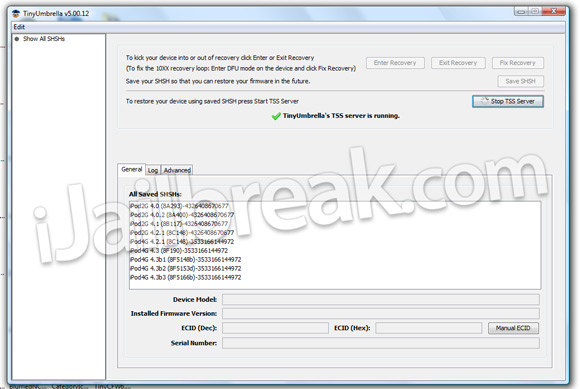 Step 13) – Finally launch iTunes, hold down the shift button on your keyboard and then click the Restore button. Select the custom firmware file you created and wait for iTunes to do its magic.
Note: If the restore process does not work trying putting your iPad 2 or iPhone 4 into DFU mode.
Congratulations! You have just downgraded your iPad 2 or iPhone 4 to the iOS 4.3.3 firmware for an Untethered Jailbreak with Jailbreakme.com on the Windows operating system. For more how to guides like the one you just followed please click here. Additionally, please leave any questions or thoughts in the comments section below; especially if you are having troubles or experiencing errors with TinyCFW.