Google has officially announced that they're working on a high resolution version of their Chrome browser for the new Retina display MacBook Pro. Yes, that's true. Google wants its browser to look amazingly beautiful and clean on that super high resolution display.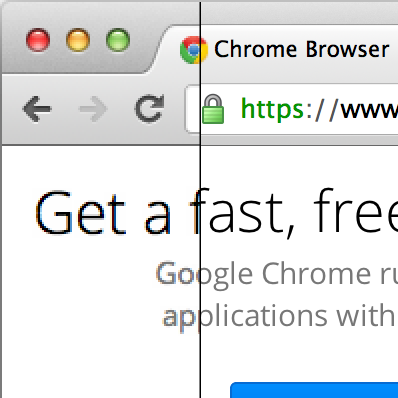 Apple announced the all new next generation MacBook Pro with the Retina display, improved hardware and design a few days ago at WWDC 2012. The Retina display on the new MacBook Pro has a screen resolution of 2880×1800, much more than that of a Full HD TV. All that goodness packed in to a 15 inch screen makes it impossible to see any pixels at all. And Google wants their Chrome browser to look good on it as well.
You always want Chrome to look great, no matter what device you're using. Apple recently announced a new laptop with a Retina high-resolution screen, and we're committed to polishing Chrome until it shines on that machine.
If you've already got your new Macbook Pro, you can try out the Chrome Canary browser, which brings high resolution to the browser. Of course, this is still in development and a full stable release will be out soon. Most of the Mac apps are yet to get the Retina treatment, but if you don't like Chrome, you can stick to Safari. Apple's stock browser has already received Retina display support and few other apps as well. The Retina display MacBook Pros have started arriving at door steps, if you ordered one, yours should arrive soon.