The Unreal Engine 3 has been ported to the iPhone 3gs and iPodTouch 3g
Just this week a Nintendo 64 emulator was ported to the iPhone 3gs and the iPod Touch 3g. Now an even greater engine was ported using the OpenGL ES 2.0 graphics used in the Nintendo 64 emulator to run the Unreal Engine 3. This is the same engine used to power best selling console games such as gears of war 2 and the Unreal tournament 3. Now you must be thinking this has to be the most laggy and unplayable port of a game engine ever. However this is certainly not the case and  if you look at the video below you can actually see that the port is very playable and runs on quite a smooth frame rate.
As you can see from the video above this was just a simple demo using a modified version of a Unreal Tournament level previously shown off at GDC. It has both a fly through mode and a playable mode with no objective besides killing a spawned enemy. The controls were simple a simple thumb stick on the left hand side of the screen and to shoot you simply tap the right hand side of the screen. Unfortunately Epic isn't announcing any sort of iPhone engine licenses nor are they entering the iPhone game market at this present moment. Porting UE3 to the iPhone is simply one of many projects being worked on inside a newer, more svelte and innovative Epic Games. However Mark did say that they would make a developers license available in the near future; maybe even as soon as late 2010.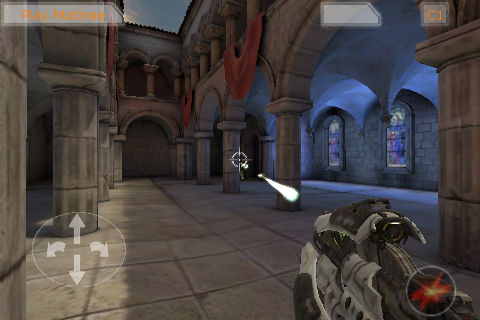 Does this mean you can expect games such as Gears of War 2 and Unreal Tournament on your iPod Touch/iPhone? Well maybe this is a bit far fetched for now but you can definatly expect it in the next 3-5 years says Mark vice president of Epic Games. With technology always dramatically improving this could definatly be the case we are already seeing 32mn chips being developed by Intel that could replace the 64nm chips used in the Iphone 3gs and the iPod Touch 3g. This would almost double the performance of these already powerful apple devices…
Do you see the iPhone becoming as powerfull as the xbox 360 in the Next 3-5 years?
Make sure you stay subscribed through our social media feeds, so that you never miss a beat, by liking us on Facebook, following us on Twitter and joining our circle on Google+.
Hey, you! Join the iJailbreak Insider for weekly newsletters, Jailbreak alerts, contests and more. (No spam, we promise)