You will soon be playing as Steve Wozniak, Apple's co-founder, in a new iOS game called Vengeance: Woz with a Coz. This is the first time Steve Wozniak has ever appeared in an iOS game. The game is slated for a Thanksgiving release and will also feature 'Machete' star Danny Trejo.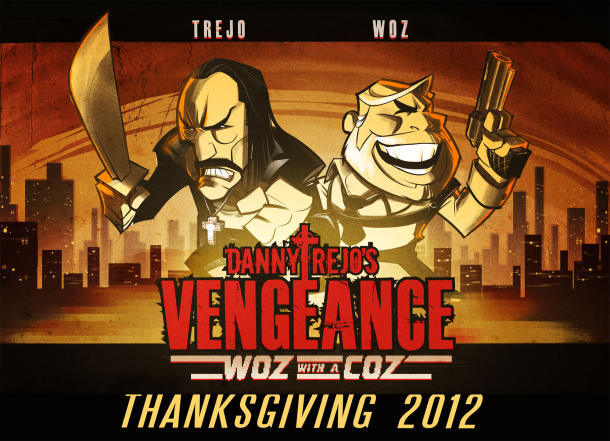 Vengeance: Woz with a Coz will be promoting an upcoming movie called 'Vengeance' starring Danny Trejo as a cop gone bad. The iOS game is 8-bit and will involve both Danny Trejo and Steve Woz fighting a city full of bad guys. Apparently, Wozniak's wife is kidnapped by some thugs, which is the basic storyline of the game. There will be lots of weapons, killing, slashing and other characters such as musician Baby Bash and MMA fighter Rashad Evans.
In "Woz with a Coz" on iOS, the Apple co-founder and his wife, "J-Woz," are enjoying their evening together, taking a glide. Unfortunately, their otherwise quiet evening is ruined — not by a competitive product release — but rather by street thugs kidnapping "J-Woz"!!! Your dynamic duo of Steve and Danny must hurry and swing into action as they tear up Fusion City in their quest to rescue "J-Woz," and maybe cause a little mayhem on their way…
That's all we know right now. We're not sure on whether it will be available only on iOS or made available on Android, Windows Phone 8 etc. Are you ready to play as Steve Wozniak and take down baddies?