Yes sir, it's that time again! A new Humble Bundle has arrived, and this one's a bit of a departure from their usual style. The Humble Bundle folks built their reputation selling awesome indie games, but now they're trying their hand at selling triple-A titles. Their pay what you want, donate part of the proceeds to charity business model prevails, though, and the deals this time around are pretty incredible.
Included in the newest bundle is a selection of titles from the ailing publisher THQ: Company of Heroes (and its two expansions Opposing Fronts and Tales of Valor), Darksiders, Metro 2033, and Red Faction: Armageddon. If you pay over the average price (which sits at $5.23 as of this writing) you'll also get Saints Row: The Third.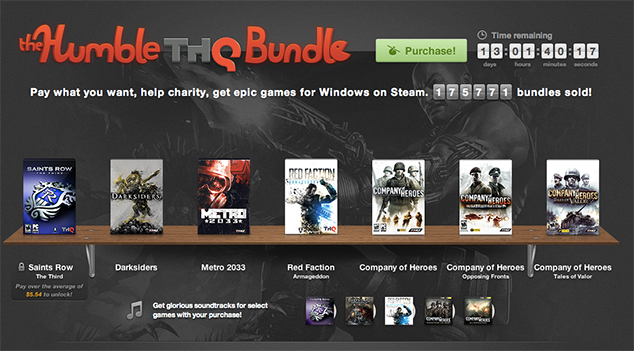 The bundle has been available for just a few hours now, and it's already drawn accusations of "ruining" the Humble Bundle name. There's definitely an argument to be made that this bundle isn't really what people have come to love the Humble Bundles for – which is DRM-free, multi-platform indie games – but we're not so sure that's a bad thing. As the creator of the Humble Bundle program has stated in response to these accusations, there will be more Humble Indie Bundles in the future…this just isn't one of them. The Humble team is trying out something else, just like they did with the Humble eBook Bundle recently.
Regardless of whatever controversy it may have stirred up, the Humble THQ Bundle is an absolutely ridiculous deal for PC gamers. All of the games on offer are fairly recent triple-A titles, and most of them would have been $60 just a year or two ago. Picking them all up for around five bucks is a total no-brainer. Red Faction: Armageddon is probably the weakest game in bundle, but it's more than made up for by how fantastic Saints Row: The Third and Metro 2033 are.
As if there wasn't enough incentive to pick this up already, here's some more: like all the other Humble Bundles that have come before, a portion of your money goes to charity when you buy the bundle. This time around, Red Cross is the recipient of all the bundle charity funds.
Now stop reading and go buy this thing!