In between the main Humble Bundles, which include a selection of tasty indie games for your PC, the Humble team has gotten into the habit of releasing Android Humble Bundles. The fourth Android bundle is now available, and it's offering up six great Android titles for a ridiculously cheap price. If you're an Android gamer, you'd be crazy to miss out on this one.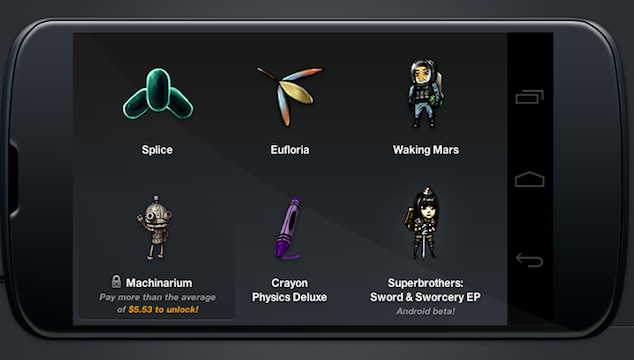 The games that have been packed into this installation of the Humble Bundle for Android are Sword and Sworcery, Waking Mars, Eufloria, Crayon Physics Deluxe, and Splice. If you pay more than the current average donation (which sits at $5.34 as of this writing), you'll also get Machinarium.
Of particular note is Sword and Sworcery, an incredibly well-received indie game that has never appeared on mobile platforms before. If you like 2D adventure games with amazing soundtracks, Sword and Sworcery is the game for you. There's lots of other gems in this bundle too, and they range from space strategy games to physics puzzlers. There's something in here for everyone.
The best part about all the Humble Bundle games is that they work on your computer, too. Whether you're on Windows, Mac or Linux, all the games in the Android bundle will also run on those platforms. So if you don't own an Android device, you can still check these games out in a non-mobile fashion.
As with most of the Humble Bundles, all the games include their soundtrack in whatever audio format you want, as well. In many cases, the soundtracks for these indie games are pretty awesome, so this is a pretty solid bonus. There's also the fact that your money goes to charity, which means you can buy awesome games and feel good about doing it.
Go forth, and obtain indie games!