ZodTTD Having Troubles With N64iPhone iOS 5 Emulator Due To Framerate And Retina Display Issues
Earlier in February we told you that ZodTTD had made some progress on bringing N64iPhone to the iOS 5 firmware generation. In fact, he did indeed get the N64iPhone emulator working on an iPhone 4 running iOS 5, but he was experiencing low framerate and backgrounding bugs. It looks like ZodTTD is still experiencing bugs related to low framerate as he has recently tweeted (Tweet #1, Tweet #2) that N64iPhone is only running at half the framerate it should due to the backgrounding bug mentioned last time we updated you on his progress. When this bug is worked out the next step will be to bring landscape support and then ZodTTD should be able to actually release the N64iPhone emulator for iOS 5.
It looks like besides low framerate issues, resulting in poor gameplay, ZodTTD is having some troubles adding support for Retina display. He mentions that most of the games being emulated have a resolution less than 320×240 and when you scale up to 960×640 you loose detail and put even more strain on the processor of your iOS device; resulting in even worse performance. Additionally, even if ZodTTD adds support for Retina display (which he has to in order to support modern generation iOS devices) it is not going to make the emulated game's graphics better in any sense. The only aspect that would actually visually look better would be the controls.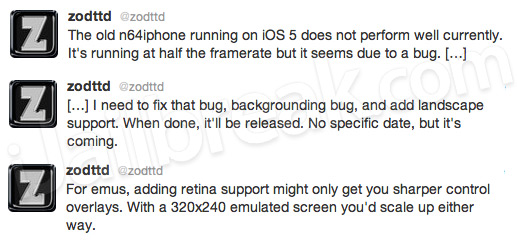 As for an actual release date for the N64iPhone iOS 5 emulator, ZodTTD has mentioned that he hopes it will only be a matter of weeks not months. Meaning at this time, unfortunately it is not known when it will be released. We will just need to be patient and hope ZodTTD will be able to get past the current bugs he is facing. As always we will keep you updated when more information is available on the N64iPhone iOS 5 emulator.
Until that time please leave your thoughts in the comments section below. Are you waiting for the release of N64iPhone?
Make sure you stay subscribed through our social media feeds, so that you never miss a beat, by liking us on Facebook, following us on Twitter and joining our circle on Google+.
Hey, you! Join the iJailbreak Insider for weekly newsletters, Jailbreak alerts, contests and more. (No spam, we promise)