We recently told you about a fun Cydia tweak called Zeppelin, which can be used to replace the carrier text on your iOS device with a logo. It's quite useful too, because now you have more space on your status bar to display the date, time etc. The tweak has been receiving a lot of updates recently, yet users have been complaining of it not working and giving errors after installation.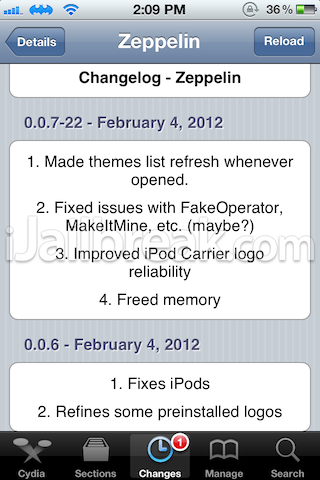 Zeppelin has now been updated to version 0.0.7-22, which claims to fix certain issues with Cydia tweaks like FakeCarrier, MakeItMine and many more. Some other bug fixes were also taken care of. But, I strongly recommend that you do not upgrade to this new version of the tweak. After installation, I have faced problems with the stock Photo.app and Camera.app.
Version 0.0.7-22 fixes some issues, but it has evidently given birth to some major ones. None of the other camera apps like Camera+, Genius Camera and a few others including the stock Camera.app have been crashing ever since the upgrade. Stick to the previous version till the developer updates and fixes this issue. We will keep you updated!