The last time Zephyr was updated, it got a whole lot of new gestures that made this amazing Cydia tweak even better. The last version number was 1.1 and it also had many bug fixes and other minor updates. One thing missing, however, was the support for iPad. There was no way to use the amazing multitasking gestures of Zephyr on the Apple iPad.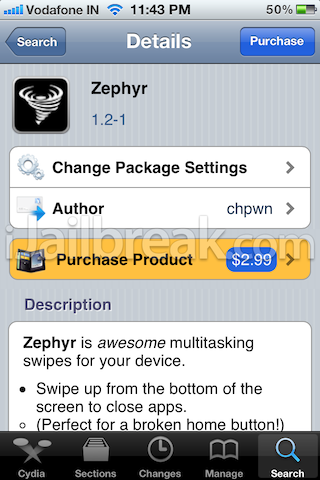 Things have changed and developer chpwn has updated the Zephyr Cydia tweak to version 1.2-1 which brings complete iPad support, sensitivity settings and more. If you have no idea what Zephyr is, then here's a little break down about this awesome tweak. Developer Grant Paul (chpwn) first released this tweak in December 2011. The tweak adds gestures to iOS multitasking, enabling you to close apps, bring up the multitasking bar, switch between apps and more using swipe gestures.
Here's the full list of changes the Zephyr v 1.2-1 brings:
Supports the iPad and iPad 2.
Sensitivity settings for all gestures.
Add 0.1s delay for switcher.
Improved performance and reliability.
Fix a number of bugs, including some crashes.
New setting for switcher activation delay
Fix crash when rapidly starting gestures
Block Zephyr activation while rearranging icons
Fix issues displaying switcher after switching apps
Pause while swiping up to show the multitask switcher
Swipe to the next app immediately from the side
And other bug fixes
That's a long list of bug fixes and new features which definitely makes the tweak a lot better! The overall speed has also been increased and the switching between apps doesn't show any lag. This Cydia tweak now works with iPhone 4S, iPhone 4, iPod Touch 3rd and 4th Gen, iPad and iPad 2. So, those who wanted to try this on their jailbroken iPad should try it out now.
Zephyr Cydia tweak is available in the BigBoss repo for $2.99. You should give this tweak a shot if you want some cool gesture controls on your device and don't want to use the Home button.