YouTube Removes "Why You Should Jailbreak" Video!
A couple days ago we shared with you a video of Jay Freeman (Saurik) talking about why you should jailbreak your iDevice. This video was quite interesting and showcased quite a few tweaks many people knew nothing about. Apparently Apple wasn't very fond with this video as if you now go to our last post you will see that the embedded video doesn't load; rather you are presented with a take down notice - This video has been removed because its content violated YouTube's Terms of Service.
The person who uploaded this video recently tweeted that he didn't even receive a reason why the video was taken down.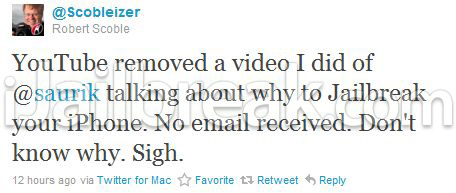 Apple recently seems like it is taking every measure to prevent the message of jailbreaking from spreading. When corporations started showing interest in advertising to the jailbreaking scene Apple contacted the company directly to end this entry into the jailbreaking scene. Now another attempt to spread the message of jailbreaking was brought to a halt with no given reason.
What are your thoughts this video being taken down? Let us know in the comments section below…
Make sure you stay subscribed through our social media feeds, so that you never miss a beat, by liking us on Facebook, following us on Twitter and joining our circle on Google+.
Hey, you! Join the iJailbreak Insider for weekly newsletters, Jailbreak alerts, contests and more. (No spam, we promise)