Filippo Bigarella (@FilippoBiga) posted the download stats for Springtomize 1.3 on Twitter yesterday. The developer has tracked the download stats for his apps in the past, but this time the Pirates outweigh the legitimate buyers 92.1% to a pitiful 7.9%.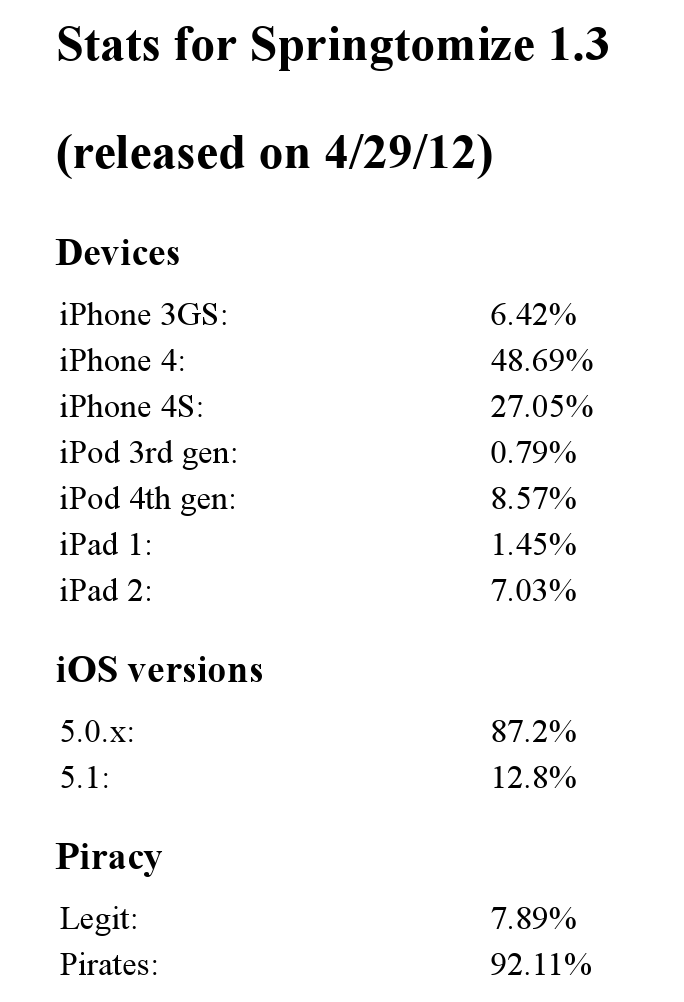 This doesn't necessarily represent a 92.1% loss in sales. That would imply that if the pirates were unable to install a cracked copy of Springtomize they would each buy a legitimate copy from the Cydia Store. Many of the features available in Springtomize are available in other free apps, and were available before Springtomize showed up. Just as it wouldn't make a difference to Microsoft's bottom line if you pirated Microsoft Office instead of installing free software like LibreOffice, installing alternative apps to Springtomize doesn't put Filippo in a better financial position than pirating his apps would.
Piracy's not scummy because it directly hurts Filippo, but because 92.1% of iPhone users who enjoyed Springtomize took advantage of Filippo's work without compensating the guy. That just sucks.
Let me make this clear: I don't support piracy. I am very much opposed to it. My parents worked as artists and entertainment professionals. So have many of their friends. I was brought up in a household where our livelyhood relied on creators having certain rights to their intellectual property.
I have special sympathy for the developers who make software on Cydia. These homebrew devs aren't faceless, cynical corporations. They're more often than not individuals who invest their own time, energy, and expertise into making apps. They're not paid salaries for making these apps. Any profit they see from their work comes directly from the apps themselves.
So what can developers do to discourage piracy? Here's my idea: if developers can track cracked versions of their software, why not include a script that detects whether the app has been cracked into the app itself (à la Earthbound's anti-piracy scheme)? Instead of rendering the app unusable, it could merely present a message accompanied with a photograph of the developer holding a packet of Mr Noodles. It should say, "My name's Filippo Bigarella. I designed Springtomize. I only ask $2.99 for my time and expertise yet 92.1% of users like you pirated this app. I'm not going to try to stop you from enjoying Springtomize, but please buy the app legally on Cydia."
For this to work, it is essential that this message be benign. If the app outright attempted to thwart being cracked, it would be a cat and mouse game until the crackers managed to bypass it anyway. By leaving a harmless dialog in the app, which most crackers wouldn't have enough skill or incentive to remove, the message can get to more people.
If you were a developer, how would you deal with iPhone piracy? Would you try to appeal to the pirate's better nature through messages? Would you go to the source and lock out alternative repositories? How about going nuclear and doing away with jailbreaks altogether? Let us know what you think would work best in the comments section below.
(Yes, I know iJailbreak.com recently featured a story on Installous. In the interest of full disclosure: I have used the service exactly once, to snag Last.FM after it was pulled from the Canadian iTunes store. Because of Installous, I paid to subscribe to Last.FM for another year before I grew utterly bored of it. The take-home point is that software tools are only as good or bad as the intentions behind the people who use it, and I will gladly reimburse Last.FM for the sale cost of their free app.)