Yesterday we told you that a new bootrom exploit was discovered that will jailbreak the iOS4.1 firmware. Today we receive some new information about this new exploit and it comes with some exciting news. This new exploit will be actually called SHAtter, and was discovered by Pod2G and p0sixninja. A bootrom exploit means that this exploit will be the first thing that runs on your iDevice when you turn it on. This means that as we said before, it will work until Apple releases new hardware (aka iPhone 5). This new SHAtter exploit can jailbreak all iOS4x iDevices – including the iPod Touch 4G, iPhone 4, iPad etc…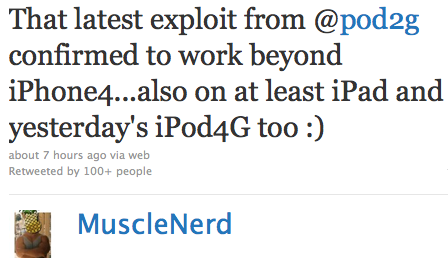 While this exploit can jailbreak the new iPod Touch 4G, it is not known whether it will be a tethered jailbreak or not! In case you did not know, a tethered jailbreak means that everytime you turn your iDevice off (yes off, not sleep mode), you will need to plug it into your computer to reboot it. Here is the official status below from the Chronic Dev blog:
We have not yet announced if this is tethered or untethered
We have not yet announced details about the exploit
Anything you read saying it is one of the above in definite terms is just speculation, again, we have not given official word about the tether status or any details regarding the exploit used.
We will keep you updated on this exploit and the progress of the iOS4.1 jailbreak! Stay tuned…