With iOS 5 only 3 days away, we are starting to see some of our favourite jailbreak apps get updated for the new release. SBSettings v5.0-b1 is now available from Cydia.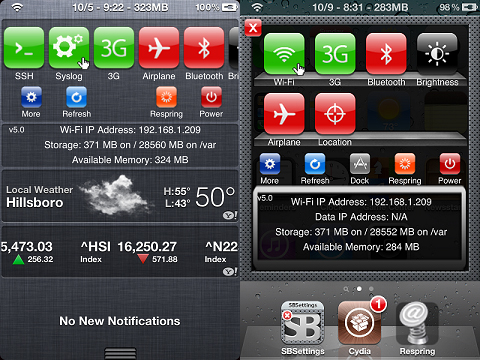 BigBoss posted info about the beta on his blog. Here's what he had to say:
I have a lot of big changes coming to SBSettings for iOS5. For those of you on iOS5 already that want to test it, I should be releasing daily beta updates for it.

Here are some features:

Notification center integration
Your choice of using the old style window or the notification center. Or both.
You choose which toggles to appear in notification and window sections.
Current sbsettings toggles should be supported. Current themes should work in notification area as well.
You get to choose what will show up in notification section. More button row, no more button row, the extra text, no extra text, the dock, the toggles, no toggles at all, or any combination of. The notification area is a limited screen resources so it's up to you to decide how you want it used.
If you want to try out the beta of SBSettings 5.0, you will have add the following repo, to Cydia:
BigBoss warns that this is still in beta, so don't expect everything to work exactly as you had it in iOS 4.x.x:
Note, I do not vouch for any stability at this point. Also, be aware that the feature set is not yet complete. To test it, you can add to your repository list. Finally, those of you that are testing this, please send me feedback at my email address as I will not be monitoring comments on the web site while busy developing. I have an ongoing "known issues" list in my changes section in the more app. If your issue is not listed there you could feel free to contact me via email and report it
BigBoss hopes to have SBSettings 5.0 ready for this Wednesday, Oct 12th, when iOS 5 is officially released from Apple.