psx4all Emulator: Play Crash Bandicoot, Twisted Metal, Resident Evil On iPhone, iPod Touch And iPad
Psx4All is a PlayStation 1 Emulator developed by ZodTTD for the iPhone, iPod Touch or iPad that is regularly updated and is supported all the way up to the iOS 4.3.5 firmware. Just like GpSPhone (Gameboy Advance Emulator) you can download ROMs (games) directly through psx4All. As PlayStation ROMs, however, are much larger in size compared to Gameboy Advance ROMs SSHing your PlayStation ROMs to your iPhone, iPod Touch or iPad will generally be a lot easier.
Psx4All supports almost all PlayStation 1 ROMs including classics like Crash Bandicoot, Twisted Metal and Resident Evil.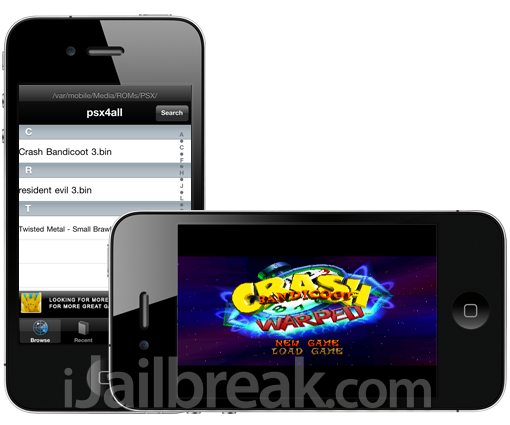 Upgrade Note:
Save states from version 3 and earlier
no longer work on version 4 and higher.
Before updating to version 4 or higher, save
to memory card in your games. Once updated, load
from that point in-game and make a new save state.
BIOS Note:
psx4all requires a BIOS file scph1001.bin.
It can not be included in this package for licensing reasons.
Once you have a legal backup of your PSX BIOS, name it scph1001.bin
making sure it's all lowercase and place it in: /var/mobile/Media/ROMs/PSX/
Description:
What's new in the 4.0 release?

WARNING! PREVIOUS 3.0 SAVE STATES ARE INCOMPATIBLE!
Simply load from a memory card ingame and save again!
All new emulation engine!
Higher compatibility!
CDDA Audio!
More options for tweaking performance!

What's changed since the old psx4iphone release?

WiiMote support via BlueTooth capable devices!
WiiMote Classic Controller support!
Non-native iPad support. Plays great in 2x mode!
Download to the ROMs directory within the app!
Full download browser. RAR and ZIP extract support!
Faster emulation via improved dynarec.
Much higher compatibility with games.
PSP formatted PSX EBOOT.PBP file support!
Even compressed EBOOTs supported!
Delete ROMs and Saves right from the app!
Full savestate and memory card save support.
Options for smoothed scaling / maintain aspect ratio.

What's coming soon to psx4all?

Native iPad support.
Improved controller skins with ability for mods.
Even more performance.
If you are interested in the psx4All emulator you can find it through the ZodTTD & MacCiti repository for a price of $2.99. We will have how how to guides available on installing ROMs and using psx4All in the near future, until that time you can visit ZodTTD.com or leave any thoughts in the comments section below.
Make sure you stay subscribed through our social media feeds, so that you never miss a beat, by liking us on Facebook, following us on Twitter and joining our circle on Google+.
Hey, you! Join the iJailbreak Insider for weekly newsletters, Jailbreak alerts, contests and more. (No spam, we promise)