Earlier this morning we reported on Stefan Esser (i0n1c)'s controversial reaction to Pod2g's exploit announcement. Since then there's been a debate between noteworthy jailbreak developers on Twitter about how figures in the modding community should be paid, if at all. If you walk away with any comment from this article, pay attention to Pod2g's: "Please people, don't insult @i0n1c, he's a great guy, and did a lot for the jb community. He has his reasons to not release 5.1 jb."
Stefan Esser is a security researcher who developed the exploit behind the iOS 4.3 Untethered Jailbreak. His comments about the compensation structure of the jailbreak and security community drew anger from many modders as well as a few nods from developers. Pod2g disagreed with Esser's contention that their work was being used to profit private individuals and was more concerned with producing exploits for the public jailbreak community.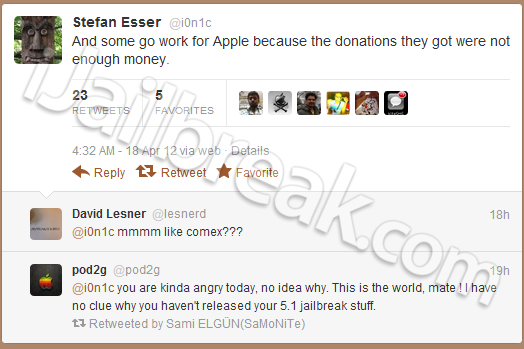 Their conversation sparked a heated discussion between Nicholas Allegra (Comex, the developer behind iPhone jailbreak methods such as Spirit and JailbreakMe.com) and ZodTTD (developer of gpSPhone, n64iphone, and other emulators). Allegra criticized Cydia's current advertising as unprofessional and suggested a change structure where paid apps help fund repositories, perhaps in the model of the iTunes App Store. ZodTTD (who runs a repository) was defending the use of advertising in Cydia repositories and mentioned a need for better, Cydia-friendly ad agencies.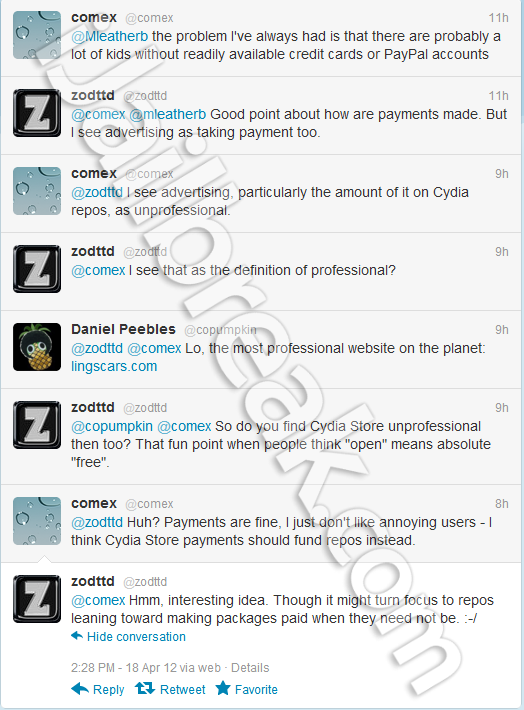 It goes to show that the jailbreak developer community is not an amorphous blob. These coders produce tweaks, apps, and exploits for their own goals and ideals, but they seem mostly capable of cooperating with each other. At the very least, Pod2g was willing to call off his mad entourage of Twitter followers.
How do you think jailbreak developers should be compensated? Please make a contribution to our comments section below.