Earlier this week, we told you about limera1n.com, a domain registered by iPhone hacker George Hotz. Digging deeper and viewing the source of the page limera1n.com shows this comment:
<!–WTF, is lime even a color?–>

Afterwards, Geohot tweeted that your data (Name, Address, Mail, etc.) is public which anyone can register a domain name under. Geohot also has so much to finish before working on a jailbreak. blackra1n is his latest jailbreaking tool and hopefully he will release a new tool when it's ready.
As of right now it seems limera1n is another fake. What's your thoughts about limera1n?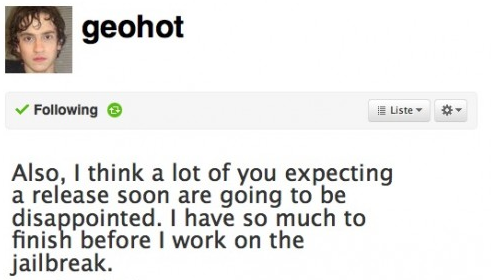 What's better, there's a registered domain called ra1nb0wra1n.com and is worth taking a look
Whois record for ra1nb0wra1n.com
Registrant:
Hotz George
183 Boulevard
Glen Rock, New Jersey 07452
United States

Domain Name: RA1NB0WRA1N.COM
Created on: 26-Apr-10
Expires on: 26-Apr-11
Last Updated on: 26-Apr-10

Administrative Contact:
George, Hotz  
183 Boulevard
Glen Rock, New Jersey 07452
United States
+1.2016583760      Fax –

Technical Contact:
George, Hotz  
183 Boulevard
Glen Rock, New Jersey 07452
United States
+1.2016583760      Fax –

Domain servers in listed order:
NS47.DOMAINCONTROL.COM
NS48.DOMAINCONTROL.COM