The stock iOS folder icons are made of a folder background image and the thumbs of icons in the folder. With the FolderIcons Cydia tweak, however, you can set a custom icon for selected folder(s) instead of displaying app thumbs. The FolderIcons tweak also removes the iOS folder background, shadows and badges.
Upon installing the FolderIcons tweak you can configure individual folders to display certain icons through the Settings.app.
Requires iOS 4 or higher

Normally in iOS Folder Icon is made of folder background image and thumbs of icons in folder, this tweak allows you to set your custom icon for selected folder(s) instead of thumbs, each icon for each folder, also remove folder background, shadow or badge!

No repring needed now!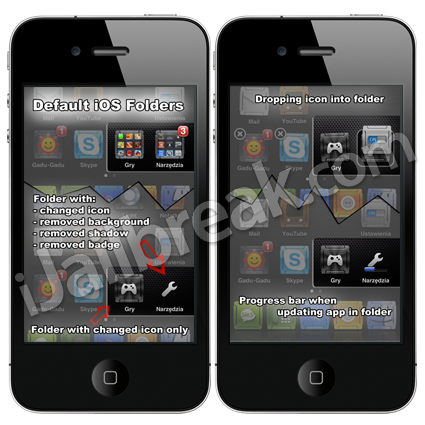 If you are interested in the FolderIcons Cydia tweak you can find it through the BigBoss repo for FREE. Let us know what you think of the FoldersIcon tweak in the comments section below.