The iPhone Dev-Team have released an update for UltraSn0w bringing UltraSn0w to version 1.2.5. What is new in UltraSn0w 1.2.5? Well, UltraSn0w 1.2.5 brings native support for the iOS 5.0.1 firmware on the iPhone 3GS and iPhone 4. For all of those that I am sure am wondering, unfortunately this version of UltraSn0w does not support any new baseband versions. You will need an UltraSn0w 1.2.5 compatible baseband, which is listed below:
iPhone 3GS
baseband 04.26.08
baseband 05.11.07
basband 05.12.01
baseband 05.13.04
iPad baseband 06.15.00
iPhone 4
If you would like to unlock your iPhone 4 or iPhone 3GS on the iOS 5.0.1 firmware you will need to head on over to Cydia and simply search for UltraSn0w.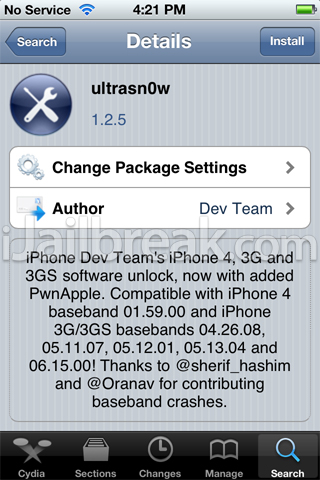 We will have a How To guide available for unlocking your iPhone 4 or iPhone 3GS with UltraSn0w 1.2.5 on the iOS 5.0.1 firmware shortly. In the mean time please leave any questions or thoughts in the comments section below…
IMPORTANT: If you are unlocking an old-bootrom iPhone 3GS, according to MuscleNerd you will first need to re-Jailbreak with RedSn0w 0.9.9b9.