Today the AppTrackr has recently tweeted that Installous 5 has been released. For those of you who are not aware of what Installous is, it is essentially a client for downloading cracked App Store applications that allow you to test an application more thoroughly before actually purchasing it from the official App Store.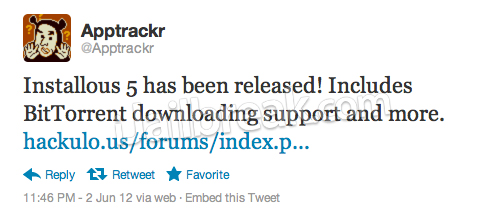 Installous 5 contains a number of improvements over Installous 4. Not only does Installous 5 come with a breadth of new features and various bug fixes, overall you will find downloading cracked applications is a much smoother process. This is because of the added BitTorrent downloading support.
With added BitTorrent support in Installous 5 it means you will be able to pause and resume downloads, which is something that only premium file hosts support. For those wondering how seeding will work, and others aspects to BitTorrent integration in Installous 5, AppTrackr wrote an in-depth explanation:
Installous uses magnet links, a decentralized way of obtaining torrent metadata. As a result, we don't host any .torrent files. We also use peer exchange (PEX), otherwise known as trackerless torrents. Both of these features make the entire process completely decentralized and uninterruptible… Installous will seed from the device only while the download is ongoing, and only if you're on WiFi. When the download finishes, it will stop seeding.
Another nice addition to Installous 5 is local notification support. This was done by creating a custom BulletinBoard plugin and using Chpwn's WeeLoader package. The end result is native iOS 5 notification system support. The only aspect of Installous that has remained untouched is the actual GUI (graphical user interface). In my opinion however, Installous' current GUI is very sharp looking and is in no need of an overhaul any ways.
If you are interested in downloading Installous 5, you are going to need to add their repository below:
What do you think of Installous 5? Share your responses and further thoughts in the comments section.
Disclaimer: iJailbreak.com does not support app piracy. We are a strong believer in supporting developers, and we ask you not to pirate applications. App Piracy is illegal, and you do so at your own risk. The whole premise behind Installous is for a better application trial experience.