A couple days ago we reported that BiteSMS 8.0 beta would be released on December 28th, but it looks like that its developer has finished it a day early as it has just arrived and is available to download.
For those of you who missed the original article, BiteSMS extends the stock messaging app to include new features like: quick compose, quick reply, scheduled messages, passcode lock, quick access to emojis, signatures, auto-forward, auto-retry and much more.
Expect this release to have some bugs that will need to be ironed out due to the fact it is still in beta, but there have been a lot of positive reports so far with the tweak working well. It is worth noting that like many tweaks, BiteSMS 8.0 is not compatible with A7 devices like the iPhone 5s due to the fact MobileSubstrate needs to be updated for 64-bit compatibility.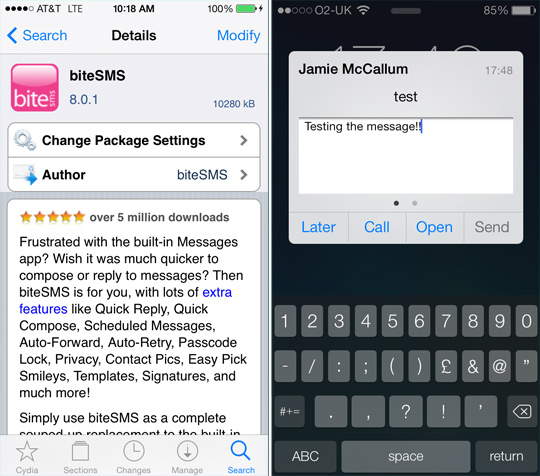 You can download and install BiteSMS 8.0 by adding the repository test-cydia.bitesms.com. This can be done by going into the Sources tab, followed by Manage > Edit Add. It should also appear on the BigBoss repo soon.
If you install BiteSMS v8.0 and it doesn't appear then you will need to reinstall MobileSubstrate and Substrate Safe Mode on Cydia or try BootStrap.
Let us know what you think of BiteSMS v8.0 in the comments.