When Apple released the iOS 5 firmware for the iPhone, iPod Touch and iPad most of the features were pretty consistent throughout all of the iOS devices. One feature that was present on the iPhone and iPod Touch, however, that did not make its way to the iPad 2 was the quick camera lunch button that appears on the lockscreen when you double tap the home button.
If you wished you could add a camera button to your iPad 2's lockscreen, then you may want to checkout the CamSlideShow Cydia tweak. This Cydia tweak will turn the default slideshow button that appears on the iPad 2's lockscreen (when double tapping the home button) and make it launch the Camera.app instead. Unfortunately this tweak does not change the icons image, but don't be deceived, once installed it will redirect to the Camera.app.
Note: The CamSlideShow Cydia Tweak does not add any icons to your SpringBoard, and does not have any configurable options.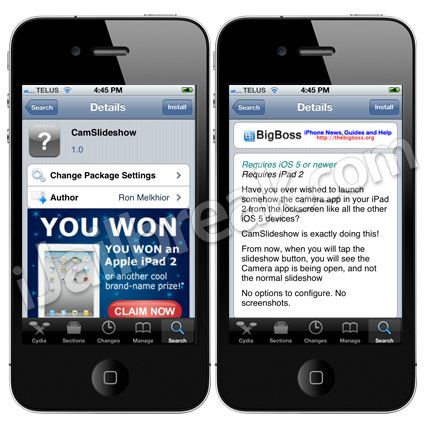 If you are interested in the CamSlideShow Cydia tweak you can find it in Cydia through the BigBoss repo for FREE. Let us know what you think of the tweak in the comments section below…