The BlurriedNCBackground Cydia tweak is a nice addition to the iOS 5 Notification Center if you are looking for a small way to stand out from the crowd. This is because the BlurriedNCBackground Cydia tweak replaces the default lined Notification Center background with a blurred screenshot of your homescreen.  This blurred notification center background, in my opinion, looks great and can even be customized through the Settings.app. You can customize different aspects to your blurred background such as the Gaussian blue ratio and the Divide Ratio.
Note: This tweak does slightly slow down the opening of the Notification Center (configuring settings can help reduce this).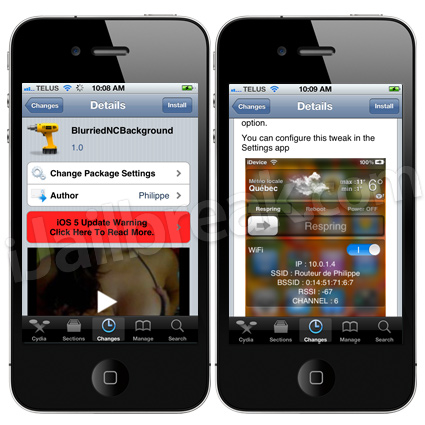 If you are interested in the BlurriedNCBackground tweak you can find it through Cydia in the BigBoss repo for FREE. Let us know your thoughts on BlurriedNCBackground in the comments section below.