Yesterday we reported the BiteSMS v7.5 was released and that its developer was claiming it was the fastest and most stable release yet. Now BiteSMS v7.6 has started being developed and one key new feature in this version is a new Notification Centre widget.
In a forum post for BiteSMS v7.6 beta 2 the new quick compose widget has been shown and it looks pretty neat. According to the changelog "[the new quick compose widget is] just a simple convenient way to launch a Quick Compose with a favorite contact (managed via Phone > Favorites). It's a Notification Center Widget (managed via Apple > Settings > Notifications > Quick Compose Widget)."
The developer notes the widget is still in early beta and its not polished yet design wise. You can take a look at a screenshot of it below.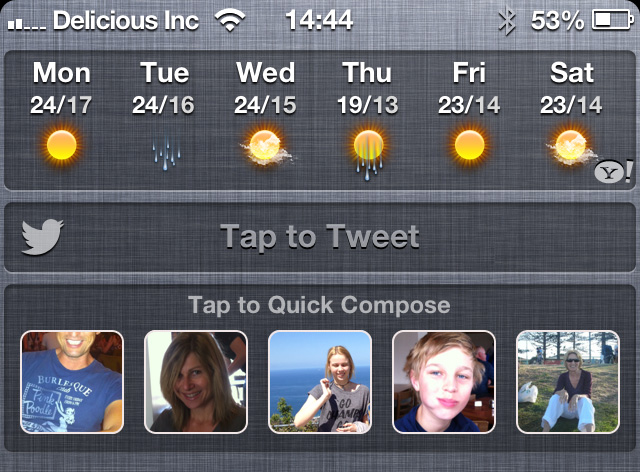 Among other things BiteSMS v7.6 beta 2 has a fix for Cydia issues, and also other bug fixes and performance improvements. You can test out beta versions of BiteSMS yourself by adding the beta repository "http://cydia.bitesms.com".
What do you think of the new BiteSMS quick compose widget? Let us know in the comments section below.