BigBoss has just announced on their blog, that a bunch of apps/tweaks by the developer Yllier will be on sale for 50% off starting on December 27th and ending December 29th.  Generally Cydia Store tweaks/apps do not go on sale, so if you are interested in one of the apps/tweaks that are listed below, now is the time to purchase them. I personally have tried a majority of these apps/tweaks and must say that they are definitely well developed. Here are the 3 Tweaks/Apps on sale…
ScreenDimmer Tweak ON SALE!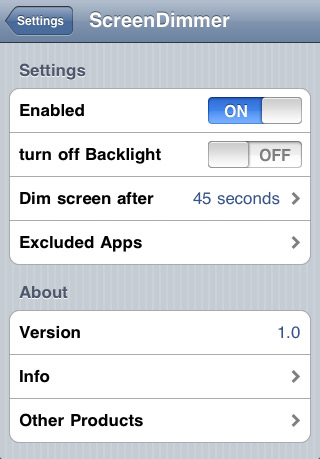 ScreenDimmer allows you to save battery life by automatically dimming your device's screen after a pre-defined time; or if you wish by turning the backlight off.
Most users suffer unnecessary battery drain while having their iPhone not on standby. Setting auto-lock to a short time makes it better, but is an inconvenience most of the time due to permanent locking and unlocking while waiting for something.
ScreenDimmer is the solution for this problem: Save battery life by reducing the backlight to a minimum if the device hasn't been used for a pre-defined time and reduce the waste of the most energy consuming component, the backlight, of the iPhone or iPod.
Free yourself from worrying about locking your device.
FireWall IP App ON SALE!
Firewall iP is the only security app of it's kind and offers many advance features like getting WhoIs-informations about the host. Block outgoing TCP & UDP connections selectively, with port-specific-blocking Shows you the hostname for the connection & can provide you with WhoIs information Block connections of apps when you are on a cellular network Block analytic providers / data collectors which PrivaCy can't Block unneeded content (ads ;)) Easy to use interface & control app and many more….
FullScreen For Safari Tweak ON SALE!
FullScreen for Safari adds a FullScreen Mode to Safari. But not just that: It also makes Safari a real multitouch browser
by adding many new gestures which can trigger a a lot of action. It also has a powerful Action PopUp, which is fully configurable.
If you are interested in having these tweaks on your iDevice, make sure you check the Cydia store on Decemember 27th! If you are thinking that you will forget about this sale, we will update you again on the day of the Sale.