It seems as if according to CPICH, that Apple is going to release the iOS 4.0.2 firmware update. This update will not do anything substantial to your iDevice, but it will patch the PDF exploit used by Jailbreakme.com! This means that if you upgrade to iOS 4.0.2 (when it is released later today), you will lose your jailbreak and unlock. It is not known when a jailbreak will be released for iOS 4.0.2, so it is important that YOU DO NOT UPDATE.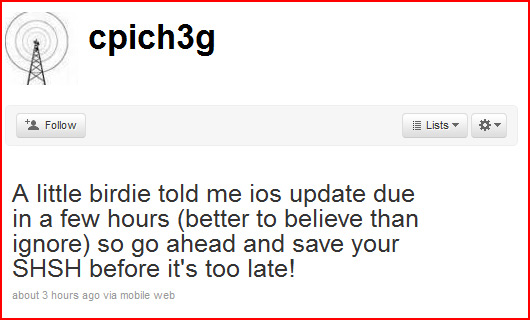 Besides not updating to iOS 4.0.2, it is important that you save your SHSH blobs before Apple stops signing iOS4. You can do so easily by following one of the two tutorials below.
To Save your SHSH Blobs you can either click the Make My Life Easier Button inside Cydia or..
Follow this quick tutorial on Saving your SHSH Blobs with TinyUmbrella.
As long as your SHSH blobs are saved, and you do not update to iOS4.0.2 you will be well prepared in case anything goes wrong.