Are you On the Go? Want to Learn how to Effortlessly control your iPod Touch/iPhone's Music Playback?
If you are someone who goes to the gym, runs or is on the go, then there is no doubt that navigating through your iPod Touch or iPhone can sometimes be a hard thing to do. Take changing a song for example; to change a song you need to take your iPod Touch or iPhone out of your pocket, get past the lockscreen, click the music app and then change your song. That seems like a lot of work if you are preoccupation with something or concentrating on pushing that extra few miles while you are running. Now what if I told you there was a tweak available via Cydia that can bring this process down to just one easy step?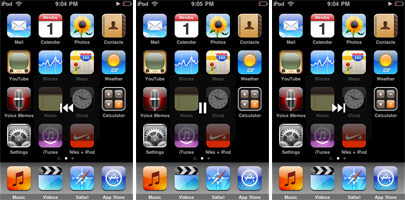 Introducing Volume Button Extender. This handy tweak will allow you to control your music playback using the built in volume control buttons on the side of your iPod Touch or  iPhone. This means that you can skip to a new song, go back to previous song or even pause your music all by using your iPod Touch/iPhone's built in side volume controls. Simply choose an initial song that you want to listen to and then click the sleep button and now you do not even need to wake your iPod Touch or iPhone. You can simply control your Music all via the built in volume controls. This application is a must have in my opinion, it adds so much more functionality to your iPod Touch or iPhone and you can still lower or increase your music volume using the volume controls. This tweak simply allows you to control your Music with out having to get past your iPod Touch or iPhone's lock-screen. The great thing about Volume Button Extender is that it is extremely easy to use.
Pausing your Music: To Pause your Music simply hold down both volume buttons at the same time for approximately two seconds.
Skipping a Song: To skip a song simply hold down the upper volume button for approximately two seconds.
Skipping to a Previous Song: To skip to a previous song simply hold down the lower volume button for approximately two seconds.
As you can see Volume Button Extender is a great application and best of all it is free! You can download and install the application through the BigBoss Repo via Cydia. Simply search "volumebuttonextender" into Cydia's search field and you will find the application. My question to your is "How has Volume Button Extender helped you?"
Make sure you stay subscribed through our social media feeds, so that you never miss a beat, by liking us on Facebook, following us on Twitter and joining our circle on Google+.
Hey, you! Join the iJailbreak Insider for weekly newsletters, Jailbreak alerts, contests and more. (No spam, we promise)