When Apple first released Airplay functionality in the iOS4.2.1 firmware, a lot of people were disappointed with the limited streaming options present. There were no options for streaming through Mobile Safari, 3rd party apps, and you couldn't even stream from your Camera Roll or Photos.app. What was even more of a hassle was if you wanted to stream videos taken with your iPhone, you will first need to sync them to iTunes and then sync them back to your computer. Thanks to 3rd party developers however, a new tweak has been released called Air Home Video, which will allow you to stream videos and photos from your Camera Roll or Photos.app without having to convert them through iTunes prior to streaming.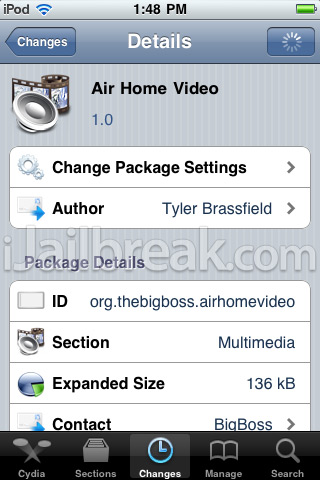 All you need to do is launch Cydia,  purchase the $0.99 utility, and simply launch the app and begin selecting which videos you wish to stream to your Apple TV 2G.
The reason this app can get past this limitation of having to stream your videos prior to being streamed, is that it simply handles the compression dynamically on your iDevice. This way you simply only need to wait a few seconds, and your video can be streamed automatically. Just as advertised, Home Air Play brings on-device streaming of camera roll videos to the iPhone. Would you be interested in Air Home Video?