Activator is one of those must have Cydia tweaks that one must have installed on their jailbroken iOS device. It helps you accomplish many different tasks all with the help of gestures, combinations of buttons and more. This tweak makes using your jailbroken iOS device more efficient and fun. For those of you who didn't know, the Activator tweak has been developed by the famous Ryan Petrich who's also given us many other useful tweaks.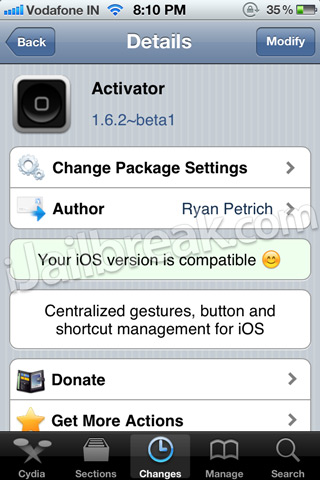 Ryan Petrich has released a new update for the Activator tweak that adds numerous new actions and also fixes a lot of bugs. Activator 1.6.2 beta1 can now be used to assign keys to play and pause music, add icons to menus, get notifications for when headphones are connected and disconnected, and much more! Here's the complete list of changes and bug fixes that Activator 1.6.2 beta1 brings:
Add Pause and Play actions
Add headset connected/disconnected events
Use much simpler native gestures in iOS 5
Fixed delayed headset action crash in iOS 5
Dismiss Notification center when activating first page
Make Activate assistant action dismiss if Assistant is already visible
Support show volume bar on iPad/iOS 5
And more
Upgrade Activator to version 1.6.2 beta 1 and find out all the new changes and bug fixes. However, the ones mentioned above are some of the main ones. If you haven't installed Activator yet, you can do so by adding Ryan's Cydia repository: http://rpetri.ch/repo and install Activator.